Potted Sherlock
Daniel Clarkson and Tom Clarkson
James Seabright
Vaudeville Theatre
–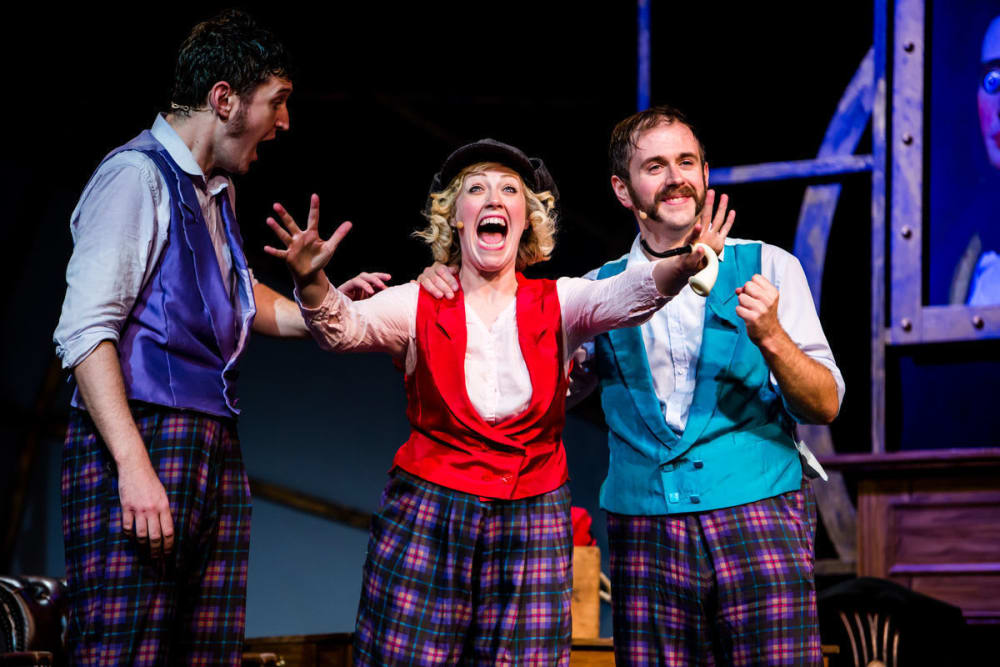 Daniel Clarkson and Jefferson Turner had already given us Potted Potter (which they have taken around the world) and Potted Panto before turning their attention to Conan Doyle's creation. With a script this time by Daniel and his brother Tom Clarkson, they premièred Potter Sherlock at the Edinburgh Fringe and now launch it in London for the Christmas season.
There are four Holmes novels and 56 short stories which they promise to pack into 70 minutes. That's one minute and one second each! But since it takes them quite a time to tell us what they are up to and there's lots of bickering along the way that's very much an over-estimate.
Since some tales get told in greater detail—The Speckled Band for instance, acted out complete with deadly Indian Swamp Adder, and The Hound of the Baskerville's complete with coach and four—most of them whip by in seconds.
The evil Moriarty (who is actually in four stories) takes up more time by popping up and interrupting whenever anything remotely like his name is mentioned—and that's not the only running gag.
Co-writer Daniel Clarkson kicks off as Holmes, with Jefferson Turner as his devoted Dr Watson and, in this meta-theatre set-up Holmes having to hop off to come back as his own housekeeper, Lizzie Wort gets there first with the tea tray as Baker Street's Mrs Hudson.
That's not the way things stay, for all three want to grab the best role and, although you do indeed get all 60 stories in a compacted 70 minutes, it's the playing not the plots that is the point.
This show is superbly silly and, though confessedly there are some boring bits that fail to fire the audience's fancy, they largely keep you laughing. There is a giggly feeling that there might be quite a lot of improvisation, but I suspect that actually it is all carefully honed. These three know exactly what they are doing and if an audience is in the mood they'll have as good a time as those on stage do.
If you're a Holmes fan and know all the Sherlock stories, perhaps you'll get an extra frisson from familiarity, but you don't need to know them, nor will you learn much more than you start off with, but that won't affect your enjoyment.
If inconsequential fun is what you're seeking, with these three you are in good hands.
Reviewer: Howard Loxton