Peter Pan
Based on the story by J M Barrie
First Family Entertainment
New Victoria Theatre, Woking
(2007)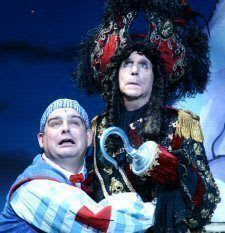 This must be the first pantomime where I haven't heard constant cries of "He's behind you" and "Oh Yes it is" frequently shouted from the audience. Being a brand new production, with brand new sets and costumes maybe they decided to dispense with one or two traditions, but there was no absence of audience participation, especially when chief pirate Smee got going. This is Andy Collins ("the eye-candy of piracy") in fine form, doing what he does best, teasing and chatting with the audience and ad-libbing like mad - especially enjoyed by the four children brought up on stage to say a few words – heartily cheered by family and friends, and they get a goody bag too. There are some traditions that can't be left out!
The sets by Terry Parsons are magnificent – I counted ten – almost all in bright, paint-box colours, beginning with a beautiful scene of the moon over the rooftops of London then into the Nursery of the Darling family where Adam Searles is a very lifelike cuddly dog Nana, looking after the three children. He is also the amazingly realistic crocodile – how's that for versatility!
Clare Buckfield is an adorably boyish Peter Pan, the boy who never grew up, and having first learnt to fly when she appeared in Dancing on Ice, she now flies superbly with flawless landings – no slippery ice here to land her on her bottom. Clare's twin sister Julie is also in pantomime so I expect Christmas day at home will be full of "My pantomime is better than yours. Oh, no it isn't! Oh, yes . etc."
The most beautiful scene, and full of wonderment, is that of Peter and the three Darling children flying from their bedroom window across an ever changing landscape until they reach Never NeverLand, where the Lost Boys are waiting to greet them.
Next scene and on come the pirates to the traditional booing, led by 'The Fonz' from the American television series Happy Days. This, of course, is Henry Winkler as Captain Hook, who is thoroughly enjoying himself. He played this part last year in Wimbledon and said, "It was the best time I've ever had in theatre in my career. A cross between mayhem, burlesque theatre and a musical, and more fun than you should be allowed to have. Seventeen hundred people yelling at me and I get to talk back". So here he is back again – just couldn't resist it – and a terrific hilarious Hook, as well as well as a comical Mr. Darling.
The scene Marooner's Rock caused a frisson of nervous excitement to drift across the audience. The reason for this was the clouds of dry ice which wafted, like smoke, thickly across the stage and into the audience. Well – we had already had to evacuate the theatre due to a fire alarm, and I have to say that the theatre was cleared swiftly and smoothly and with no panic and we were soon able to return, to Winkler's comment – "Did anyone need to pee that badly?" Two bursts of flame from the stage immediately before the interval made everyone laugh.
Anyone remember Dad's Army and Captain Mainwaring drilling the soldiers by numbers – one two three, two two three etc.? Well Hook performed the same ritual - the pirates with mops. I wouldn't be surprised if my favourite director, Ian Talbot, hadn't slipped that one in, and Bill Deamer's inventive choreography came to the fore when the pirates heard 'number' as 'rumba' and went into their dance.
Lauri Owen is an exotic Tiger Lily and Amanda Salmon a sweet voiced Wendy, sure that her mother would be happy to adopt all the lost boys. That caused some comments from the audience too, especially the dads, and when they all arrived at the Darling home father was happy to see his family back but, pathetically, "Why did you bring so many children with you?"
The Twelve Days of Christmas was performed, with very different 'true-love' offerings for each day, and involved Collins constantly rushing back and forth across the vast stage, stopping for a breather to gasp "And I have to do this 68 times". He is concerned about his weight ("too many of my sweets") so should be a shadow of his former self by the end of the run.
A very spectacular pantomime and Winkler was right – more fun than you should be allowed to have!
Running until 13th January
Reviewer: Sheila Connor