Peter Pan
Written by J M Barrie, adapted by Eric Potts
First Family Entertainment
New Wimbledon Theatre
(2010)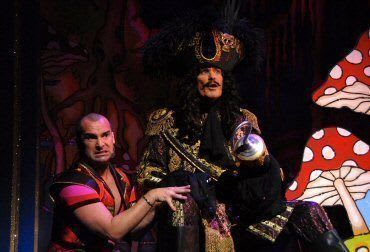 This is the pantomime that everyone's been waiting for. Last year saw the most downloaded woman of all time grace the New Wimbledon Theatre stage in Aladdin, and this year her fellow Baywatcher, the most watched TV star on the planet, finally makes his Hook debut in this spectacle of a show, Peter Pan.
Although the New Wimbledon Theatre prides itself as being the self-proclaimed "Home of London Pantomime", Peter Pan can only loosely be classified as one. The narrative does not fit the genre's usual structure and there is a serious lack of stock pantomime characters, such as the Dame. Peter Pan is extremely difficult to stage as a pantomime as its narrative is episodic in nature and does not result in a Royal Wedding. There is also no natural place for an interval and without a transformations sequence or cliffhanger, the first act ends rather abruptly. However, these things aside, Eric Potts has taken the Barrie classic, added a sprinkling of pantomime staples and created a production that mediates between the original tale and the conventions British audiences have come to expect from such a festive show.
As Hook, David Hasselhoff could do almost anything and the crowd would go wild. His slightly camp and childish Hook receives cheers, screams, hoots and whistles in place of boos and at times Peter Pan feels like This Is Your Life through the medium of pantomime. All of the expected references are there: Baywatch, Knight Rider, Pamela Anderson, the Berlin Wall, and although the audience laps them up, they seem to take over and become even more important than the Hoff himself.
At any given opportunity Louie Spence breaks into dance and his body never seems to stop undulating whilst on stage. As Roger the Cabin Boy - cue innuendo galore - Spence takes on the Smee role, although his character does not in any way constitute that of the Comic. Smee is such an iconic character that it seems a great shame to have ditched him in favour of Spence's risqué Roger, but in such a lavish production sacrifices must be made for the star.
In fact, due to the involvement of Messrs Spence and Hasselhoff, the narrative takes a battering and the opening scene in the Darling nursery occurs without Mr or Mrs Darling setting foot on stage. There's no talk of thimbles, sewing on shadows or arguments over tapper rolls and the usual harmonious conclusion back in London is never even given a chance to materialise. The last quarter of the show turns into a no-expense-spared large-scale Vegas inspired cabaret act and a vehicle for Spence to do his usual high kicks and for the Hoff to give a concert-style rendition of 'Jump In My Car'. But what does this have to do with Peter Pan? Why, it's the Jolly Roger's Cruise Cabaret of course.
Wimbledon's version of the tale also sees the introduction of, not Pan's People, but the Panettes, a Supremes-like trio who appear in various guises along the way and blurt out many a soulful tune to pass the time. Quite what their role or function in the story is, no-one seems to know, as their songs are only loosely linked to the scene in question. Perhaps they are there to highlight a change in setting, or to contribute even more Broadway razzle-dazzle? But this is hardly needed when the production boasts beautiful costumes and glittering scenery by the master of pantomime design, Terry Parsons.
A great sense of vibrancy and energy runs throughout the performance and after 100 years of business, the theatre still feels very much alive. Next year's pantomime has been announced as Dick Whittington and as the home of London's starriest pantomime, stargazers will be keen to find out just who First Family Entertainment manage to hook as next year's prize catch.
Playing until 16th January 2011.
(David Hasselhoff plays the role of Hook from 10th - 17th December, Sun 19th December (5.30pm), 21st - 30th December, 9th - 12th January and 15th - 16th January. Jeremy Jackson will perform the role on 18th December and 19th December (1.30pm). The final American star to take on Captain Hook will be chat-show host Jerry Springer, who can be seen in the role from 31st December - 8th January and then from 13th January - 14th January.)
Reviewer: Simon Sladen