Peter Pan A Musical
Julian Ronnie (composer and lyricist), and Paul Miller and David Taylor (book), based on the novel by J M Barrie
Curve, Leicester
(2010)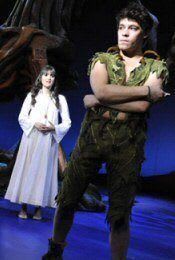 What a difference a year makes. Twelve months ago Curve staged the world premiere of a musical, Simply Cinderella, which was a big disappointment and didn't leave a lasting impression. It was a bold programming choice for the theatre which had only just opened. Now Curve is again giving us something out of the ordinary - but there's absolutely no comparison between the two shows.
Peter Pan A Musical is aimed at a wider audience than last year's offering which had little appeal to younger family members. And if a seasonal production stands or falls by the attention of the younger members of the audience, this one is a massive hit. During the show I saw, children were enthralled and only the odd one had to be taken out because something had proved upsetting.
Parts of the show are magical and would melt the heart of the most evil baddie imaginable. That's due in no small way to Spencer Charles Noll, an energetic and warm Peter who's totally comfortable with the aerial sequences, and Lauren Samuels, an enchanting, endearing Wendy.
There's also a delightful portrayal by Paul Baker who earns sympathy as downtrodden Smee, the loveable pirate who tries to make Captain Hook see the error of his ways. And James Gaddas gives an understated performance as Hook - inherently nasty but not too evil to give young children nightmares.
Six schoolchildren who were successful in open auditions fit neatly into the cast and aren't overawed by appearing alongside experienced actors.
Credit too to Simon Higlett whose sumptuous design really does conjure up a captivating world where exciting adventures happen.
However, Peter Pan isn't perfect. I found some of the musical numbers unappealing but that was no fault of the band which is capably led by musical director Chris Newton.
I Can Fly which crops up a couple of times grows on you and the pirates get the cheeriest songs. But the rest of the numbers aren't memorable and appear to be there simply to make up the quota. Some of the singing was below par when I saw the show, although that might have been merely a one-off.
David Taylor's direction sometimes lacks attention to detail - the sword-fighting is a little tame and the pirates on one occasion walk on water instead of staying on their island. The second half appears to have more pace and life than the first.
There aren't many laughs in Peter Pan A Musical and there's no audience participation; when Tinkerbell drinks poison meant for Peter, he says children must have faith that she'll recover. But before the audience get the chance to deliver their response, it comes in the form of taped voices; a strange decision not to let young theatregoers get in on the act.
Nevertheless, there's something to please every member of the family. Children going to the theatre for the first time will no doubt want another sprinkling of fairy dust after seeing this show.
"Peter Pan A Musical" continues until January 23rd
Reviewer: Steve Orme