Peter Pan
J M Barrie with music by Mark Charlap, lyrics by Carolyn Leigh, additional music by Jule Styne, additional lyrics by Betty Comden and Adolph Green
Pele Productions
The Lowry, Salford
(2010)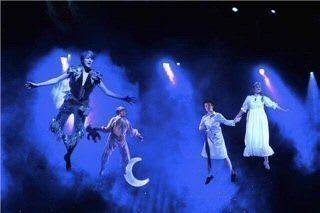 The Lowry's main Christmas production this year is J M Barrie's Peter Pan, but rather than one of the pantomime versions, this is based on Barrie's original 1904 play with songs that were added for the 1954 Broadway production by Moose Charlap and Carolyn Leigh, with additional music by Jule Styne and additional lyrics by Betty Comden and Adolph Green (although you'll need a strong magnifying glass to read the names of the songwriters in the programme).
This production is faithful to Barrie's original tale of the boy who can fly and doesn't grow up and his crew of Lost Boys who have regular battles with Captain Hook and his pirate crew. Pan flies into Wendy's bedroom to recruit her as the Lost Boys' mum and to read them stories, watched over by the jealous fairy Tinker Bell, whom we only see as flickering light flying around the room. There are some of Barrie's quirky oddities in the story, such as a canine nursemaid for the children called Nana and a crocodile who has swallowed a clock as Hook's nemesis.
There are many aspects of this production that score highly. The set design by Scenic Properties is bright and colourful, and the way the Darlings' bedroom dissolves into the night sky looks wonderful, with some very elaborate settings for the ship and the forest. The flying of the actors is done very well (by Foy) with some very subtly-staged attachment and detachment of the wires.
However there a quite a number of little breaks and pauses and fudged links between routines and conversations which make it look like a production that is still a week's rehearsal away from being a decent show. There are a few performances that look as though they will be good with some more work, some elaborate fights created by Kenan Ally that are carried out, at best, half-heartedly and some bland, forgettable songs with arrangements that don't seem to really make the best use of a thirteen-piece pit band. By contrast, the chorus of pirates and Indians carry out Ian Meeson's fun choreography with a great deal of energy and commitment.
Thomas Law plays the title character as a spoilt and selfish child, which is absolutely right for the part. Sometimes he is great and at other times he doesn't quite convince—plus his singing isn't always in time with the music—but he will probably settle nicely into the part during the run. Tara Wells as Wendy has rather a lot make-up on for someone who is supposedly just going to bed, and this falseness runs through the whole of her characterisation and her irritating voice, which she drops when she is supposed to have grown up towards the end to make her a much more natural and sympathetic character.
Brian Capron is fine as Captain Hook for most of the time but occasionally seems a little uncertain with what he is doing. As his sidekick Smee, John Henshaw never really gets to grips with the comedy archetype of the pathetic, subservient and incompetent villain's assistant and at times appears barely to have rehearsed at all. As Red Indian Tiger Lily, Julia Makarova displays some amazing acrobatics, particular in her silks routine, and has a strong singing voice, but has a circus performer's habit of frequently flashing smiles at the audience and delivers her very few lines of dialogue weakly.
There are some nice performances from the child actors, but for me Tom Glynn-Whitehead stood out as looking absolutely perfect as the older of Wendy's brothers John Darling (the part is shared with Michael Gardiner) with a performance to match his appearance. Katie Schofield is very good in the small part of Wendy's daughter Jane towards the end, showing perhaps that she could make a good Wendy herself.
In another week or so this may turn into a much stronger production than the one that opened which looked under-rehearsed and as though director David Fleeshman hadn't really taken control and brought everything together into a satisfying whole. Even then, this show will not come close to the quality of last year's wonderful White Christmas at The Lowry from the same production company.
Reviewer: David Chadderton