Peter Pan
Paul Hendy, based on the book by J M Barrie
Lyceum Theatre, Sheffield
(2010)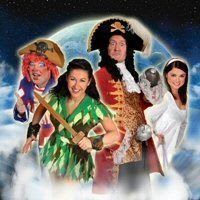 There is nothing like a Dame! And in this production of Peter Pan Damian Williams' Mrs Smee is a particularly splendid example. With his huge physical presence, booming voice and splendid comic timing, he quickly released the audience of young children (and their adult companions) into uninhibited response. All the familiar catch phrases were there: 'Can't hear you'; 'Oh, no you can't'; 'He's behind you'; and most importantly for this Christmas entertainment, 'I do believe in fairies'.
Paul Hendy's adaptation of Barrie's book honoured the child audience (or indeed, the child in adult members of the audience) and had something for everyone. This was not a dark and frightening Peter Pan, but one in which the potentially darker moments were made safe by a light touch in the writing and direction and the emphasis on comedy rather than dramatic effect. The crocodile, particularly with its locomotion problems, was brother to Roald Dahl's The Enormous Crocodile, a children's picture book in which the crocodile also has a comic presence. Consequently, there were no wailing children in the audience, and for children who had not seen a pantomime before, the progression from uncertainty to engagement and spontaneous response was delightful to watch. The production was also completely smut free, and while there were local and political references to amuse the adults, mainly the language and the comedy was aimed at the children.
The integrity of the production was also reflected in the performance of the actors, a splendid cast of experienced and accomplished 'celebrities' who put their celebrity status to one side in order to reach across the footlights and delight the children. Hayley Tamaddon as Peter Pan was all a principal boy should be: attractive, convincingly boyish, enthusiastic and energetic, with a permanent huge smile on her face; she can also sing, dance and fly delightfully.
It was a pleasure to see Nigel Planer on stage, transformed into a nasty but really nice Captain Hook. The young audience particularly liked a sequence in which he told them he hated ALL children, whatever their age. Two older boys in front of me were delighted to be told that he particularly hated eleven and twelve year olds, and waved their arms in the air as if cheering a goal.
All the principals sang and danced well and explored the comic potential of the script. Gemma Sutton was a charming and attractive Wendy with a powerful voice. She surprised us in the second half by belting out 'Rule Britannia' in the manner of Dame Clara Butt. Gemma Wardle was also in good voice, and gave three contrasting performances as Mrs Darling, a lovely looking but rather common mermaid, and Big Chief Squatting Cow (opportunities for scatological humour there).
Much more to delight in this fast paced, bright and cheerful production. A clunky adaptable set provided a backdrop for the many brightly coloured costumes; effective use of back projection; an excellent band; an energetic ensemble, including a local circus performer; magnificent, athletic flying from the principals and the two young boys who also dangled from the flies.
So, a fizzling Christmas treat for the whole family, especially suitable for younger children.
The show continues at The Lyceum until 9th January.
Reviewer: Velda Harris