Pravda
Howard Brenton and David Hare
Birmingham Repertory Company and Chichester Festival Theatre
Chichester Festival Theatre
(2006)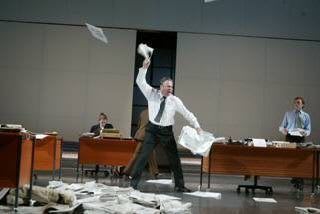 Have I got Old News for You could be the title of this revival of the 1985 play Pravda, which was such a huge hit at the National in its time, and regarded as just as relevant today (hopefully not so!). With an enormous cast of excellent actors, and written by two very eminent playwrights, Howard Brenton and David Hare, this should have been the fireworks to complete an exceptionally successful summer season, but ended up as a rather damp squib
Pravda means 'Truth' and the show points out how very little truth there is in a press whose sole aim is to make money – beginning with an unfortunate lady trying desperately and unsuccessfully to get the local newspaper to retract the erroneous story they had printed – one which was destroying her life and her livelihood - and receiving the dismissive response "We don't publish corrections – they don't look very good on the page".
This newspaper is chugging along nicely, quite happy with its outlook and its banal articles, when along comes South African tycoon Lambert Le Roux to buy it up and stir it up. His character appears to be based on people we won't mention – but both their initials are R.M.
His first shake-up is to sack the editor, Elliot Fruit-Norton (Bruce Alexander – who rises above the silly name to produce a very credible performance). This dismissal and subsequent appointment as director of the National Greyhound Racetrack Inspection Board leads to the headlines "Editor Goes to the Dogs". In fact, in spite of some interestingly amusing dialogue and excellent acting, the news sellers shouting out the headlines (truth twisted to catch attention) provided some of the funniest aspects of the evening, and why the troupe of stuffed greyhounds paraded around the stage received a round of applause I really do not know.
Oliver Dimsdale is Andrew May, the young idealist who at first refuses to work with a South African who has lived with apartheid, and Zoe Waites is his left wing wife and social conscience, both excellent performances, but the most interesting and flamboyantly funny character is Roger Allam as Le Roux as he barges his way through to the prize he has been after, the aptly named Daily Victory, by way of the downmarket, flashy tabloid The Tide, and May's high principles are finally compromised when Le Roux brings lawyers and money to bear on him, and he is persuaded to take on editorship of this trashy paper with false promises.
The show also points out the power of the press: "We need the government - but not as much as the government needs us!".
There is plenty of comedy in the play – amusing rather than laugh-out-loud - one item being the drama critic discovered inebriated and comatose under a newsroom desk, a risky inclusion with so many of them in the audience!
Amusing enough, but not the sharply observed satire I was expecting. Its time has passed! For real excitement and tension try The Father at the Minerva Theatre next door.
Reviewer: Sheila Connor