Lt. Columbo in Prescription Murder
Richard Levinson and William Link
Middle Ground Theatre Company
Civic Theatre, Darlington, and touring
(2010)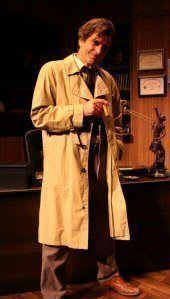 The dishevelled Lieutenant Columbo is an iconic figure in the world of the television detective genre, and Peter Falk's portrayal of the character between 1968 and 2003 ensured that the hit series achieved cult status. Now, the case that launched the legend, Prescription: Murder, has been returned to the stage with Middle Ground Theatre Company's production.
Former star of television series The A Team, Dirk Benedict takes on the title role and has the unenviable task of walking in the shadow of the legendary Peter Falk. Although the character of Columbo does not appear on stage until a fair way into the plot, when Benedict made his entrance it was to warm applause from the audience.
In addition to his visual impressiveness, Benedict also had every mannerism and nuance of the character honed to a tee and his performance was consistently excellent. Patrick Ryecart, as the murderous Dr Flemming, performed his role with a strength and assuredness which ensured that he was in no way overshadowed by the dogged detective.
The supporting cast – Karen Drury (Claire Flemming), Elizabeth Lowe (Susan Hudson), George Telfer (Dave Gordon) and Karren Winchester (Miss Petrie) – all give top-notch performances, too.
Michael Lunney's direction keeps up the momentum and, although the identity of the murder is no mystery (in true Columbo style), the suspense is maintained in the taut game of cat-and-mouse played between Dr Flemming and Lt. Columbo.
John Goodwin and Andy Martin are to be commended for the design of the effective set and the backstage crew must be congratulated for some of the slickest scene changes I have ever seen at a theatre. Similarly, the lighting design, by Bob Hodges, adds an additional element of atmosphere to the proceedings.
Indeed, Columbo: Prescription Murder is a first-class production that, at times, drew audible gasps of shock and surprise from the audience. As Dr Flemming observed, "You are magnificent, Columbo!"
To 26 June 2010, then touring to Truro and Plymouth
David Chadderton reviewed this production in Salford.
Reviewer: Steve Burbridge