Press
Nathaniel Brimmer-Beller
Black Bat Productions
Pleasance Courtyard
–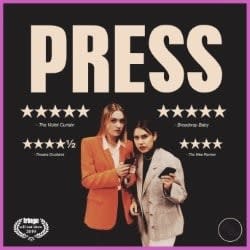 Playing hard into such recent socio-cultural events such as #OscarsSoWhite and the debacle over the various awards won by The Green Book and similar films that take a white-centric view of racist eras, Press aims a sardonic sight at Hollywood, and for the most part succeeds.
The story revolves around the release of a new movie, Catch me Some Freedom. This flat Hollywood glitz take on slavery during the Civil War is all set to sweep the "Goldies", when it's revealed at the 11th hour that the lead character, played by a white actor, was based on a real life person of colour.
With the awards announcement minutes away and a Twitter-mob forming, it's up to the beleaguered and harassed producers to set about trying to find a story, a scapegoat or a spin that might just keep them in their careers, frantically taking calls, pulling in old favours and lamenting the state of modern online discussion, as well as wryly observing many facets of modern Hollywood casting choices.
It's a fun play, smartly observed and more than capable of raising a few chuckles. The overall effect is a little too scattershot, and the schemes and logic the pair rush through is often not entirely clear as they barrel through ideas. But the end result is one that is certainly amusing even if it doesn't really say anything particularly innovative.
Reviewer: Graeme Strachan