Pressure
David Haig
Chichester Festival Theatre with Royal Lyceum Theatre, Edinburgh
Minerva Theatre, Chichester
–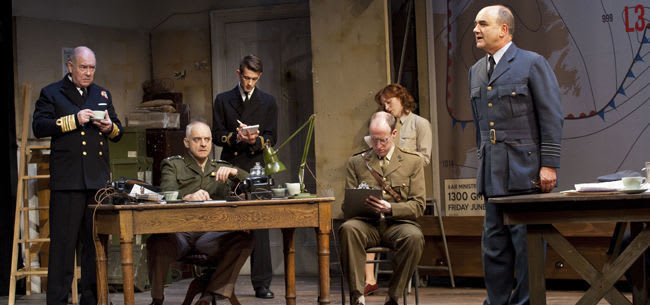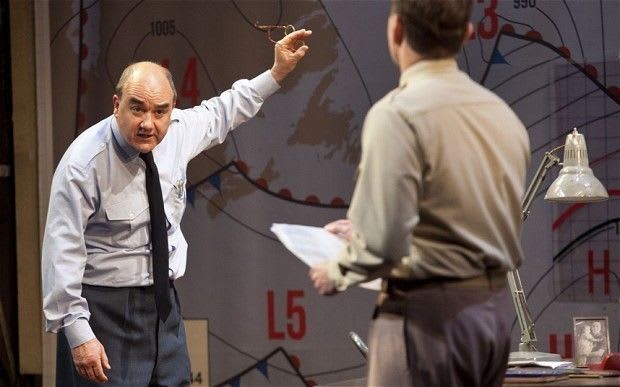 A huge screen showing a weather chart dominates Colin Richmond's set, and we are in a makeshift room in Southwick House, Portsmouth, about to follow the events which took place there over the course of four days (and nights) in June 1944.
It is a beautiful summer day and sun streams through the french windows, but the sounds of aircraft, bombs and guns are constant. It is the weather which is the focus of the story, and the vital importance of supplying the correct forecast.
With only hand-drawn maps and following reports coming in from variously sited weather stations, the meteorologists are entrusted with the task of finding the most propitious day for Operation Overlord, the name given to the plan to land over 160,000 troops at five points along the French coast in an invasion which could alter the whole course of World War II.
The top meteorologists will advise General Eisenhower (Ike) on the most suitable timing, and Haig's play centres around the conflict of opinions between the taciturn and abrupt Scotsman Group Captain Dr James Stagg (played by Haig himself) and the relaxed and confident Colonel Irving P Krick (Tim Beckman), American's chief weatherman.
Krick bases his calculations on weather patterns in previous years, but Staff points out to him, very forcefully and very comically, that British weather doesn't behave itself the same as the settled Californian climate.
Stagg also has another crisis on his hands. His wife is in labour with their second child and the first birth had been difficult, but he was not allowed to visit or even telephone. With so much pressure on his mind, at one point he almost goes into meltdown (something Haig does so well), but calm, kind, sensible Kay is there to calm him down and find a solution to at least one of his problems.
This, the only woman in the play, is Kay Summerby, officially Ike's chauffeur but the intimate nature of their relationship is obvious. She is played by Laura Rogers in a superb performance ranging from super efficiency to tenderness and concern, and finally to heartbroken fortitude when discarded by her lover.
The play reaches a climax of tension and apprehension when Krick insists the chosen day for the invasion (5 June) would be fine and sunny and Stagg, equally forcefully, predicts a storm. Malcolm Sinclair as the commanding presence of Eisenhower has the weighty responsibility of deciding which advice to follow, and even though we know the outcome we are hanging on every word.
The play is by turns funny, confrontational, emotional and deadly serious—the necessary loss of so many men weighs heavily on the mind, as Eisenhower regretfully acknowledges. "I will feel every one of their deaths".
Haig's witty, clever, well researched and totally absorbing dialogue is delivered with complete conviction by all concerned, and it is a tribute to some superb performances and to John Dove's meticulous direction that my feeling at the end was that I had been present at an extremely momentous event in the history of the war and and lived every moment with the participants. Outstanding.
Incidentally, the Los Angeles Times, reporting Krick's death in June 1996, had a totally different version. No comment.
Reviewer: Sheila Connor