The Price
Arthur Miller
Royal Lyceum Theatre, Edinburgh
(2010)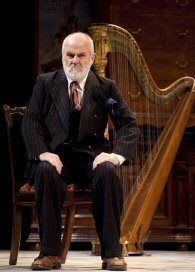 Of course it is an appropriate time to revive a play that focuses on greed and materialism, but Arthur Miller's play is about much more than that and this production thankfully doesn't overdo the more topical aspects.
It is also a dissection of family ties and, as in several of Miller's other works, it is the bonds between the men in the family that form the heart of the play.
The two brothers Victor (Greg Powrie) and Walter (Aden Gillett) are the central relationship in the play, struggling with one another to gain the moral highground and also make sense of their lives.
The struggle between Victor and Walter is very involving: as in Mamet's Oleanna you want to take a side but while characters have strong arguments their flaws quickly start to show through and you are left realising that there isn't a right answer.
As it is Victor that appears first Walter does seem like the intruder, the enemy. In addition Powrie creates such a genuine quiet persona it is at first difficult not to side with him, especially when contrasted with the initial arrogance of Gillett's Walter.
The play is supposed to be carefully balanced, favouring neither brother. Here Victor is certainly more able to win over the audience to his character, but this is a debate and therefore while Walter can seem very unsympathetic that doesn't necessarily undermine his argument.
The only problematic lack of balance is that Powrie can be slightly lacking in energy while Gillett at times did too much, especially with his arms. Most of the play though was in the words and there was no problem their delivery.
Esther is played by Sally Edwards, more than just Victor's pushy wife, very spirited and tireless in her attempts at diplomacy between the brothers.
Looming over all are the fantastic furniture, every antique shop, market and theatre store cupboard having been raided, and also well aged and fascinating is the assessor Solomon (James Hayes), a very necessary outsider to the conflict of the play and a much needed source of comedy.
As with Oleanna, there is a guilty sense that the choosing of a particular side of the argument isn't necessarily such a voluntary act. The brothers argue to justify their lives, so the side you take is likely to be the brother you empathise with not the one who is most convincing.
While the play involves the Wall Street Crash, it is almost unnecessary and this production is also much more than substantial than just being a topical revival.
Until February 13th
Reviewer: Seth Ewin