Prick Up Your Ears
Simon Bent
The Lowry, Salford
(2009)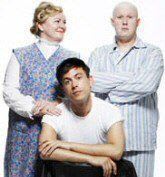 John Lahr's 1978 biography of English playwright Joe Orton, with an innuendo-packed title created by Orton's lover and his killer Kenneth Halliwell, produced an Alan Bennett-scripted film in 1987 and now is a stage play by by Simon Bent, just working its way to the West End.
Orton met the older Halliwell when they were both students at RADA in 1951, and they began a stormy sexual and artistic relationship right up to their deaths in 1967, writing several works together that were never published, which fed into their – certainly Halliwell's – view of themselves as unappreciated geniuses. They were sentenced to six months in prison in 1962 for defacing library books, a project that began as a joke to rewrite the blurb on the book-jackets but to make it look authentic.
After their release from prison, Orton began to write by himself and have some success, which fed into Halliwell's jealousy and paranoia, not helped by Orton's voracious appetite for having sex with strange men in public toilets. On 9 August 1967 Halliwell attacked Orton with a hammer and then took an overdose of Nembutal sleeping pills, which killed him before Orton died.
The play is set entirely in their cramped Islington flat that they lived in from 1959 and looks at the period from just before their arrest in 1962 until their deaths five years later. It effectively gets across the tempestuousness of the relationship between Orton and Halliwell and Halliwell's flamboyance, artistic pretentiousness and deep insecurity, but it doesn't get across much about Orton's character, who is a rather two-dimensional foil to Halliwell's rants and routines.
There are problems with the structure of the play, which is just a chronological step through their lives with big jumps and contractions, but some of the writing is just sloppy. The opening scene contains dialogue that makes the classic mistake of the inexperienced writer of having characters tell each other in detail about something that they both already know – in this case their library books project – just to get this information across to the audience. There are some standard set routines such as imagining being interviewed as a famous person, in this case on Desert Island Discs, and this is the second play I've seen recently with the same opening gag under the bed clothes, which I won't spoil if you haven't seen it.
Orton spent a lot of time honing his dialogue to make every word count, and, even though his plays are hilarious, at times he would cut out a line if it made him laugh while he was writing it as he thought this meant it would distract from the plot. This play has a lot of aimless wandering and lots of non-sequiturs inserted merely to squeeze a gag in, and it still isn't as funny as one of Orton's plays, although the characters do appear to come straight from sit-com: perhaps Halliwell-as-Hancock and neighbour Mrs Corden as the cleaner from many 40s radio comedies.
The production is as half-hearted as the script. Matt Lucas does get across the important aspects of the ludicrous, self-important but very lonely and insecure Halliwell, but there are moments where he lacks material or direction and falls back on a touch of the comic caricature that he is more famous for on television. Chris New portrays Orton as pleasant and tolerant and very little else. Gwen Taylor switches effectively between sit-com nosy neighbour and a more realistic concerned mother figure, but the two halves of the character are quite separate.
In fact none of the characters coheres as a believable person just as the whole production never coheres as an effective piece of theatre, despite some decent attempts by the actors to bring it together. There is something charming about it that makes you want to like it and there is humour and some nice set pieces and touches to the characters, but this script from an unknown writer without a star attached would have been fortunate to get past the first read-through, let alone a West End run. It is such a shame, as this is a powerful story and a great pairing of characters for a writer to get his or her teeth into. That final image of the two of them in the flat should leave an audience stunned, but I'm afraid it left me cold.
Philip Fisher reviewed this production at the Comedy Theatre
Reviewer: David Chadderton