Pride and Prejudice* (*sort of)
Isobel McArthur after Jane Austen
Tron Theatre Company, the Royal Lyceum Theatre Edinburgh and Blood of the Young with Birmingham Repertory Theatre, Bristol Old Vic, Leeds Playhouse, Northern Stage and Oxford Playhouse
Leeds Grand Theatre
–

Listing details and ticket info...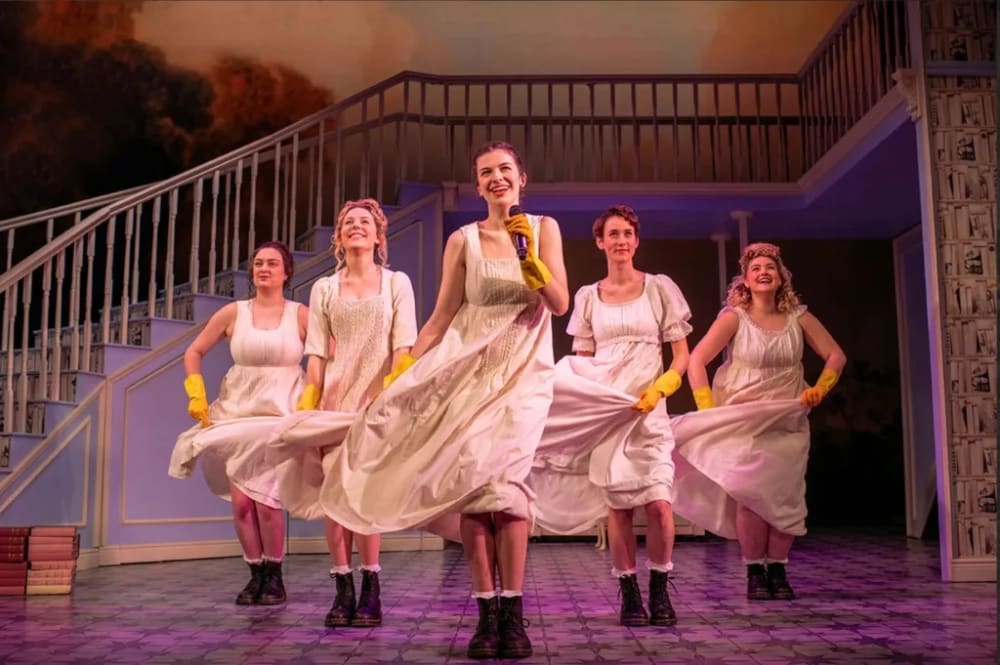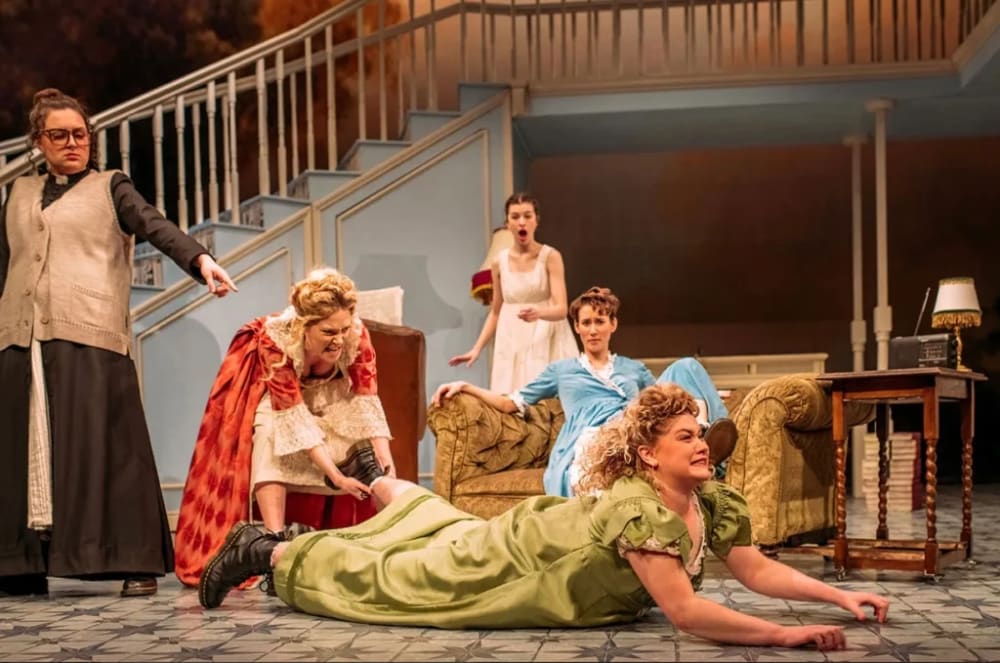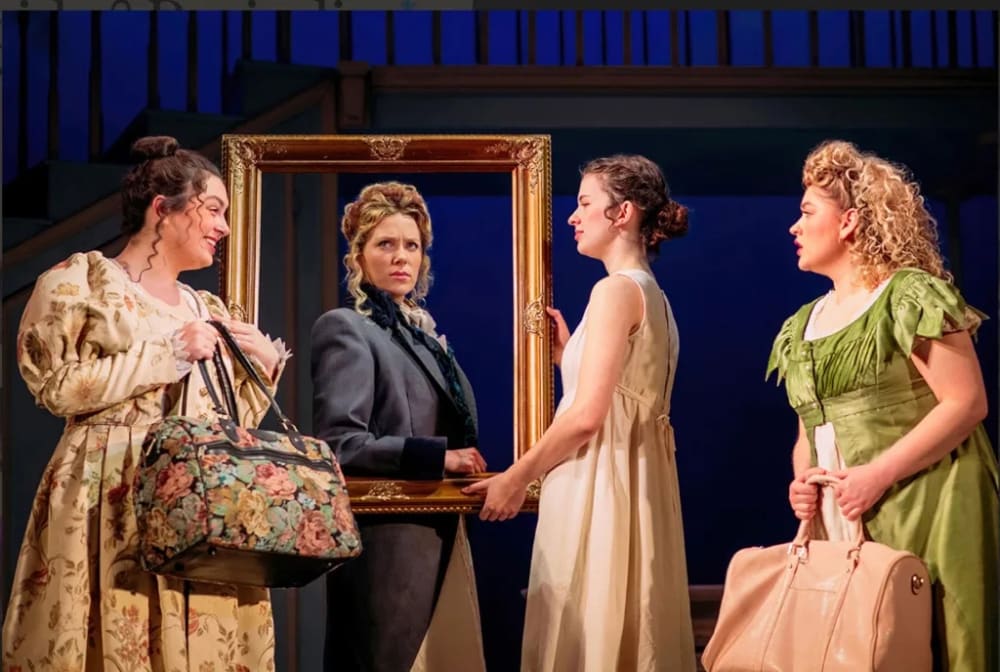 Jane Austen's six novels have inspired innumerable adaptations on stage and screen—and none more so than her most famous and popular work, Pride and Prejudice. Sticking just to the 21st century, we have seen the book merged with Bollywood (Bride and Prejudice), murder mystery (Death Comes to Pemberley) and even horror (Pride and Prejudice and Zombies).
If you had asked me a few years ago to choose my favourite retelling of Pride and Prejudice, I would have named the much-loved BBC series from 1995 starring Jennifer Ehle (superb) and Colin Firth. However, the crown was snatched by Pride and Prejudice* (*sort of) when I first watched it in 2020. It was undoubtedly one of the most enjoyable stage productions I have seen in recent years, and it gave me enormous satisfaction to watch it become a West End hit and later scoop the Olivier Award for Best Comedy Play.
Having loved the show previously, I approached this touring production with a mixture of excitement and trepidation. While this staging didn't bowl me over in quite the same way as the first one, I think that is largely due to the fact that I now knew what to expect. It's certainly no reflection on the calibre of the performers (excellent across the board) or the wit and inventiveness of Isobel McArthur's script.
From beginning to end, this adaptation of Pride and Prejudice does a superb job of balancing respect for the source material with a sense of fun and irreverence. The play open with five young female servants bemoaning the fact that they are doomed to eke out their lives as background characters in their employers' stories. Left to their own devices, they mount a speedy but faithful recreation of the novel, managing to bring life to a gallery of characters through lightning-fast costume changes.
With many period dramas, one sometimes gets the impression that the director is more interested in the clothes and home furnishings than the deeper themes of the story being told. This is resolutely not the case with this production, which is more concerned with the economic and romantic plights of the female characters than their bonnets or ribbons.
Not only is McArthur's script filled with fabulous, sweary dialogue, it also offers an illuminating commentary on Austen's original novel. The decision to portray Mr Bennett as an empty chair facing in the wrong direction is wonderfully clever, conveying his apparent lack of interest in the future of his five unmarried daughters. Kitty Bennett—the second youngest of the Bennett sisters—is not portrayed at all, which makes perfect sense when one considers that she is the least memorable of the five, neither as outrageous as Lydia nor as insufferable as Mary. It was also an ingenious idea to give the characters access to a karaoke machine, as this enables them to express their deepest feelings through song; in one memorable scene, Elizabeth chastises Darcy by singing "You're So Vain" directly at him.
One of the great joys of watching Pride and Prejudice* (*sort of) for the first time was the mixture of regional accents on stage (Scottish, Northern Irish, Yorkshire), and this is very much the case with this revival. Emmy Stonelake is a fabulously bolshy Elizabeth Bennett, and her glorious Welsh accent marks her out from some of the stuffier characters.
One can hardly think of two more different characters than Mrs Bennett and Mr Darcy, yet they are both played by the same actor. Dannie Harris excels in both roles, capturing the desperation and insecurity of the former and the scowling intensity of the latter.
Lucy Gray is enormously entertaining as the two Bingley siblings, and brings pathos to the role of Elizabeth's friend Charlotte, who in this production carries a torch for her oblivious chum (just another of McArthur's brilliant additions to the original text).
While I wasn't crazy about the portrayal of Mr Collins as a slow-talking buffoon—I much prefer it when he's depicted as a creepy, unctuous, servile buffoon—there is no doubting the comic talent of Leah Jamieson, who is hilarious as Lydia and Mary. Equally impressive is Megan Louise Wilson, who is great value as the dastardly scoundrel George Wickham and the icy Lady Catherine de Bourgh.
The streamlined set, designed by Ana Inés Jabares-Pita, manages to pay homage to the Regency period whilst also creating space for a number of memorable theatrical moments, including the sight of Jane singing Etta James's "At Last" whilst riding a wooden horse.
Skilfully directed by Isobel McArthur and Simon Harvey, Pride and Prejudice* (*sort of) is full to the brim with imaginative ideas. While some purists may bridle at the prospect of hearing Elizabeth Bennett drop the f-bomb, this show offers a terrific spin on one of literature's greatest romantic comedies.
Reviewer: James Ballands