Pride and Prejudice
Adapted for the stage by Simon Reade, based on a novel by Jane Austen
Regent's Park Open Air Theatre
–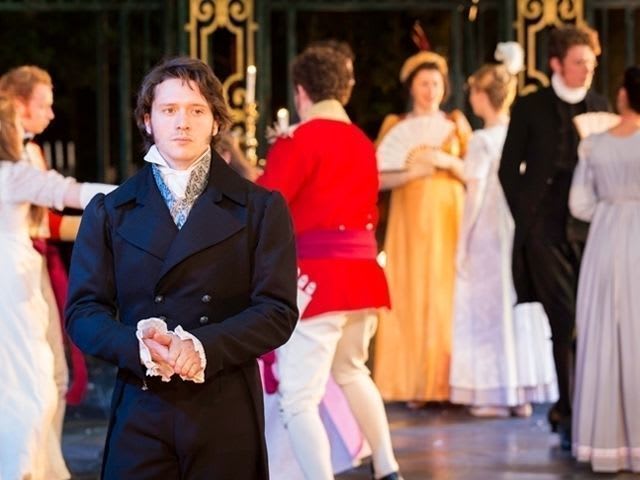 It is a truth universally acknowledged that a mini-series on British television is the best place for Jane Austen's novels and will do wonders, not only for TV sales abroad but also for the tourist trade, increasing visits to stately homes and the countryside.
Pride and Prejudice was first published 200 years ago. It is the most­ read novel in the English language and has never been out of print.
It was first staged in 1936 with Celia Johnson and Hugh Williams. It was filmed in 1944 with Greer Garson and Laurence Olivier. There have been many films, televisions and musicals since. The most famous was in 1995 with Colin Firth and Jennifer Ehle. The most recent was in 2005 with Keira Knightley and Matthew MacFayden.
Austen, commenting on her playful and epigrammatic novel in a letter to her sister, Cassandra, wrote that it "was rather too light and bright and sparkling; it wanted shade." She was being ironic, of course. Simon Reade's adaptation is very serviceable. What is missing, inevitably, is the ironic commentary and it is the irony which makes the novel great.
Austen thought Elizabeth Bennet was "as delightful a creature as ever appeared in print." Jennifer Kirby, still at drama school and making her professional debut, is impressive: quick-witted, outspoken and equal in intelligence and poise to David Oaks's Mr Darcy, she is more than capable of standing up to Jane Asher's condescending Catherine de Burgh, who is no caricature in their confrontation, but a genuinely formidable presence.
Rebecca Lacey chatters away as Mrs Bennet. Rob Heaps is charming as Mr Bingley. Ed Birch's odious, obsequious and self-important Mr Collins, with his long legs and ridiculously low bows, is physically very funny, and particularly so when he invades the dance floor.
Deborah Bruce's pretty production, on a revolving stage, is aimed at family audiences and young girls will love it.
Reviewer: Robert Tanitch