Pride and Prejudice
Jane Austen
Rosemary Branch Theatre
–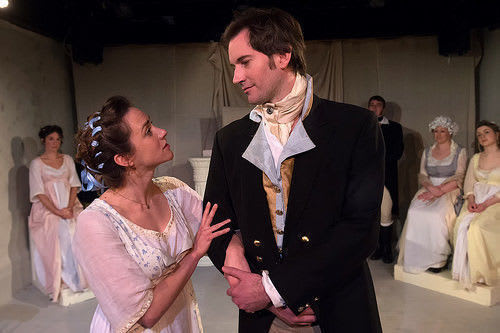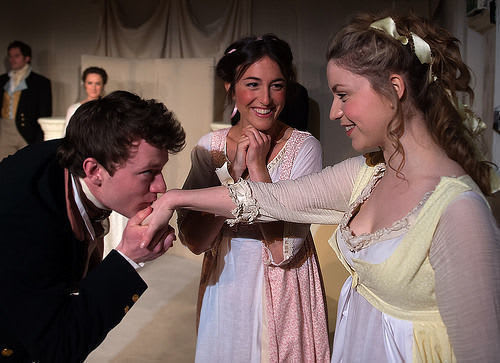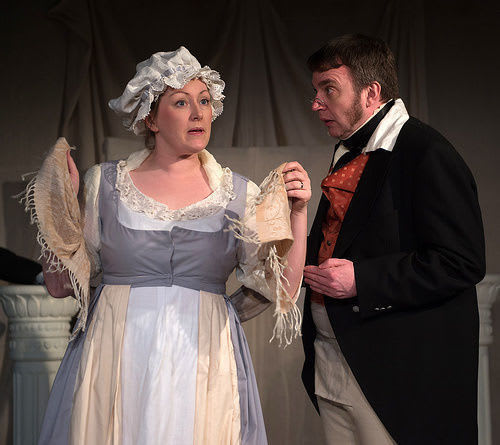 Austen aficionados should like this treatment of this favourite novel for director / adaptor Bryony J Thompson has not only stayed true to the story but tells it using Austen's own words. This is not so much a dramatisation as theatrical story-telling.
There are no invented conversations. The text (heavily edited of course to fit into a play's two-hour traffic) is divided between the whole company, broken down sometimes into sentences, and clearly delivered flowingly almost without interruption from one voice to another. Actual dialogue is delivered by the character and reported episodes often acted out by those in them, sometimes as they themselves describe the action.
Within this format there are no directorial gimmicks. This is a clear and straightforward presentation, dressed in period and played against a classically formal but neutral background that puts all the emphasis on actors and text. The whole cast is on stage throughout: creating moments of action when needed, for a ball or a coach ride for instance, sometimes part of a melee of movement sometimes melting into the background.
Things happen very rapidly, the text is clearly delivered but at such a pace that those not already familiar with the story may miss some of the minutiae, as the life and loves of the girls of the Bennet family are revealed: their insecure future, their mother's aspirations, their father's benevolence, romantic attachments, elopements, forced marriages, visits to relations and to grand houses.
With everyone, except those playing dashing Mr Darcy and delightful eldest daughter Elizabeth, playing multiple roles as well as sharing narration, you do have to listen carefully to know when who is who. Mr Darcy says he admires Miss Bennet for the liveliness of her mind and Miss Thompson credits her audience having lively minds too.
George Haynes is new neighbour Bingley and Mr Wickham among others. Wickham may be a bit of a bad egg but you can see exactly why Alice Coles's giggly irresponsible Lydia would fall for him. Carla Freeman plays a gentle Jane Bennet and younger sister Kitty but gets more chance at creating a character as Georgiana Darcy.
Daniel Brennan is the girls' indulgent, plummy-voiced father and if he, with Lainey Shaw as Mrs Bennet and together all the other older characters, become just a bit hammy adding years to their actual ages, that is not out of key with Austen's often critically caustic portrayals and allows us to laugh at them.
At the heart of the story, Danny Frost presents a Fitzwilliam Darcy who is tall dark and handsome. No wet shirts are needed, on or off, to make him a mark for every matchmaker and Emilia Williams is a delightful Elizabeth Bennett. When they get the chance to play an actual duologue together, the play sparkles.
Where Austen has provided the adaptor with dialogue or a letter that can be treated as a soliloquy, this adaptation works best. However inventive the way that it is handled, this production is in danger of being swamped by narration that doesn't allow enough scope to build character and empathy and sweeps on a little too evenly.

I would have preferred greater liberties to have been taken in the adaptation instead of literally sticking so precisely to Austen's text, but it is cleverly constructed and the Austen fans alongside me were in all ways delighted.
Reviewer: Howard Loxton