Pride and Prejudice
Sara Pascoe, based on the novel by Jane Austen
York Theatre Royal and Nottingham Playhouse Theatre Company
York Theatre Royal
–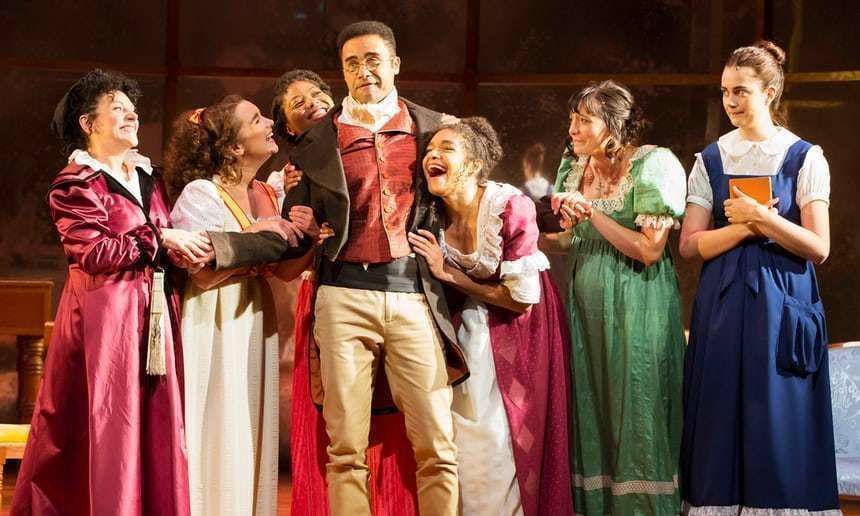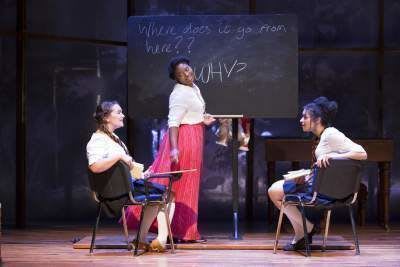 First published in 1813, Jane Austen's Pride and Prejudice has been enchanting readers for over two centuries. Like Much Ado About Nothing, it is one of the great progenitors of the modern-day romantic comedy, and its influence can be felt in innumerable films and TV shows where men and woman overcome their initial distaste to fall madly in love with each other.
However, there is more to Pride and Prejudice than a well-told love story. The romance between Elizabeth Bennet and Mr Darcy may loom large in the public imagination—thanks largely to the BBC series from 1995—but director Susannah Tresilian and comedian turned adaptor Sara Pascoe are keen to highlight the struggles of women in Regency-era England.
During Austen's lifetime, women enjoyed the same legal right as children. This meant it was impossible for daughters to inherit property, thus making it essential for women to secure their financial future by making a good marriage.
Understandably, Mrs Bennet (Kerry Seers) is desperate to marry her five daughters off before her husband (Adrian Irvine) pops his clogs and the family home is bequeathed to his appalling cousin, Mr Collins (Matthew Romain).
Like Austen, Pascoe charts the Bennet sisters' romantic progress, focusing principally on the combustible relationship between bright but headstrong Elizabeth (Bethan Mary-James) and arrogant but misunderstood Mr Darcy (Matt Whitchurch).
In addition to this faithful (yet heavily abridged) retelling of the original story, Pascoe also punctuates the narrative with present-day interludes that offer a modern commentary on Austen's creation. In several scenes, for example, the stage becomes a rehearsal room in which the actors discuss their characters' motivations. In others, a harassed teacher (Bethan Mary-James) attempts to teach the novel to a class of bored schoolgirls.
Pascoe has expressed disgust at the prospect of modernising Pride and Prejudice—"puke puke puke" are her exact words—but her attempt to combine past and present results in an overstuffed production that doesn't give enough weight to the central romance between Lizzie and Darcy. This is a shame, as it means their eventual union has less dramatic heft than it would have had otherwise.
That being said, a few of Pascoe's modern embellishments border on brilliance. The scene in which a director and editor discuss the use of close-up in the play-within-a-play is a delicious critique of period drama conventions. However, too often these additions feel like encumbrances, creating layers of ironic detachment between Austen and the audience.
Pascoe claims that her main objective was to make Pride and Prejudice as funny as possible, and in this respect she is largely successful—on the night I attended, the audience laughed consistently throughout its near three-hour running time. I also enjoyed some of her alterations to the original text, such as heightening the weirdness of middle sister Mary Bennet (Rachel Partington) and turning Charlotte Lucas (Alice Haig) into even more of a dispassionate husband-hunter.
Despite some reservations about the adaptation, I enjoyed the ensemble playing. Bethan Mary-James makes a very good Lizzie, skilfully capturing her strong will, lively intelligence and kind heart. Matt Whitchurch does a fine job in an under-written part, deftly conveying Darcy's haughtiness and social awkwardness.
The rest of the cast take on a variety of smaller parts, bringing energy and versatility to each of them. Standouts include Rachel Partington, who steals every scene she's in as the increasingly strange, envelope-hoarding Mary, and Matthew Romain is suitably loathsome as the obsequious Mr Collins.
Carla Goodman's striking set design—a large gilded birdcage—serves as a clear visual metaphor for the Bennet sisters' entrapment and provides a versatile performance space that can be quickly transformed into a host of other locations. Emmy the Great's songs are often amusing, particularly the one in which the Bennet sisters implore the audience not to judge them too harshly for their marriage fixation.
So, how does Pascoe's adaptation stack up against others that have gone before? Somewhere in the middle, I should think. Susannah Tresilian's production is highly entertaining and filled with clever flourishes, but its diverse elements don't quite cohere into a totally satisfying whole.
Reviewer: James Ballands