Pride & Prejudice
Jane Austen, adapted by Joannah Tincey
Richard Darbourne Ltd, in association with Preston Guild Hall and Two Bit Classics
Charter Theatre, Preston
–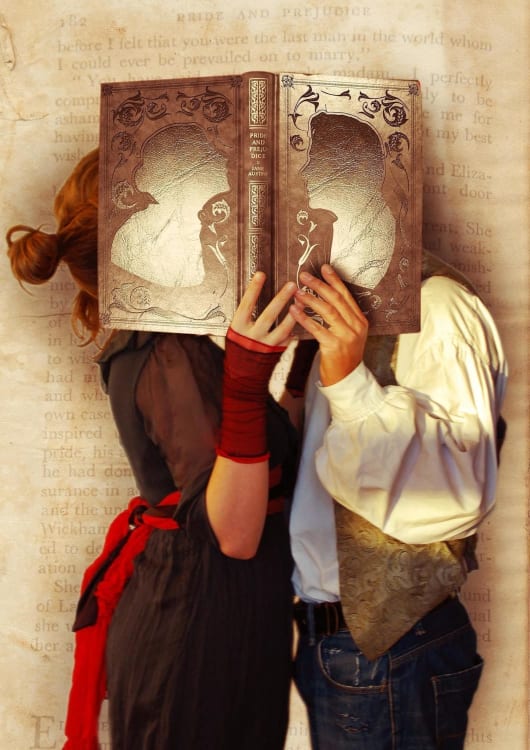 Two into 21 fits nicely when a pair of actors play all the characters from Jane Austen's classic novel in this delicately-detailed stage adaptation.
It doesn't even matter that one of the characters, Anne de Bourgh, is briefly played by a cushion! By the time of her briefly upholstered appearance, the audience are comfortably absorbed by this theatrical gem of a production—and would begin to believe anything you put before them.
There's no shortage of these sorts of stripped-down, theatre-on-a-budget performances but Joannah Tincey's adaptation never spoofs or takes liberties with the original. It is faithful to the language, the period and the giddy cast of characters created by Austen. If anything, it is maybe just a little too loyal, and at nearly two and half hours long might still benefit from a little more editing?
Then again, you would not want to miss a moment amongst the procession of characters that Tincey herself, and Nick Underwood, create before your eyes. With the merest inflection of voice, or neatly cultivated mannerisms, they have you separating your Bennets from your Bingleys in no time. Small tokens of character become identifiers, a handkerchief here, a lapel medal there.
Their gender-swapping ability raises even more laughs from Austen's satirical comedy of manners, particularly when a frock coat swishes neatly into a frock. An easy familiarity with the original story is not essential, but it helps.
Tincey is not the first to spot the very theatrical nature of the original novel but what she does home in on is that its characters are pretty much a series of double acts, so her 'two-card trick' works well on stage.
It's all staged and performed with gusto, and within a fractured stage design—by Dora Schweitzer—that owes as much to Dali as it does to Darcy.
Preston Guild Hall is to be congratulated for picking up the associate production role for this third tour of a play that is now heading for London. It's another encouraging sign of the venue's determination to market its brand more widely.
Reviewer: David Upton