Pride & Prejudice* (*Sort Of)
Isobel McArthur after Jane Austin
David Pugh, Tron Theatre Glasgow, Royal Lyceum Theatre in Edinburgh and Blood of the Young
Criterion Theatre
–

Listing details and ticket info...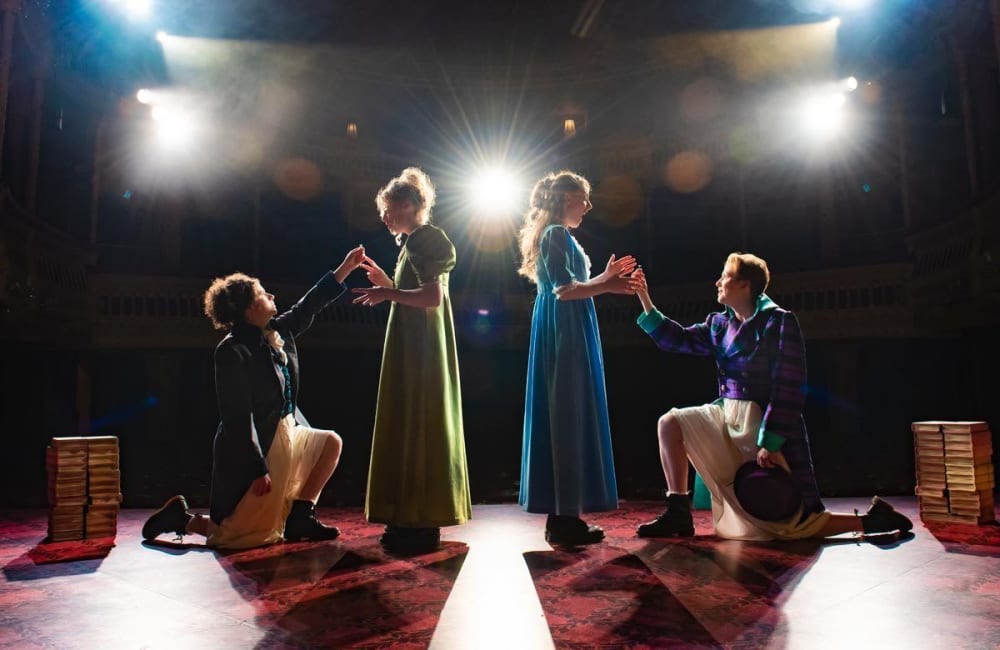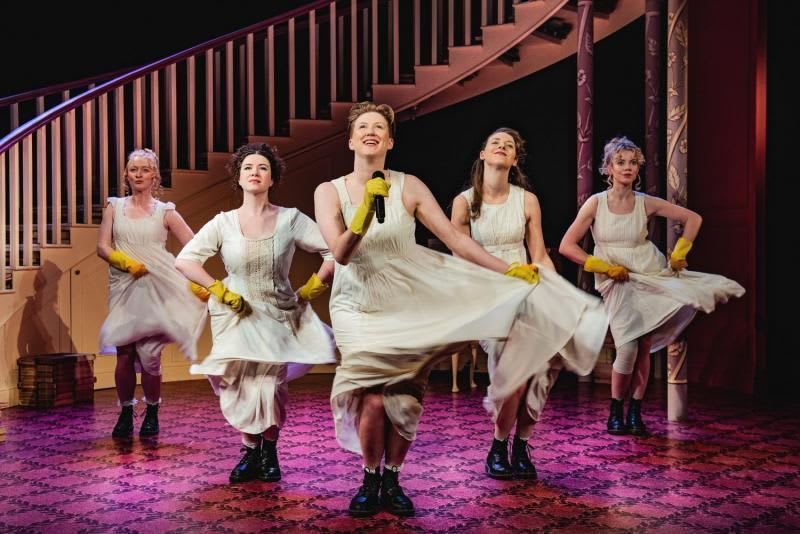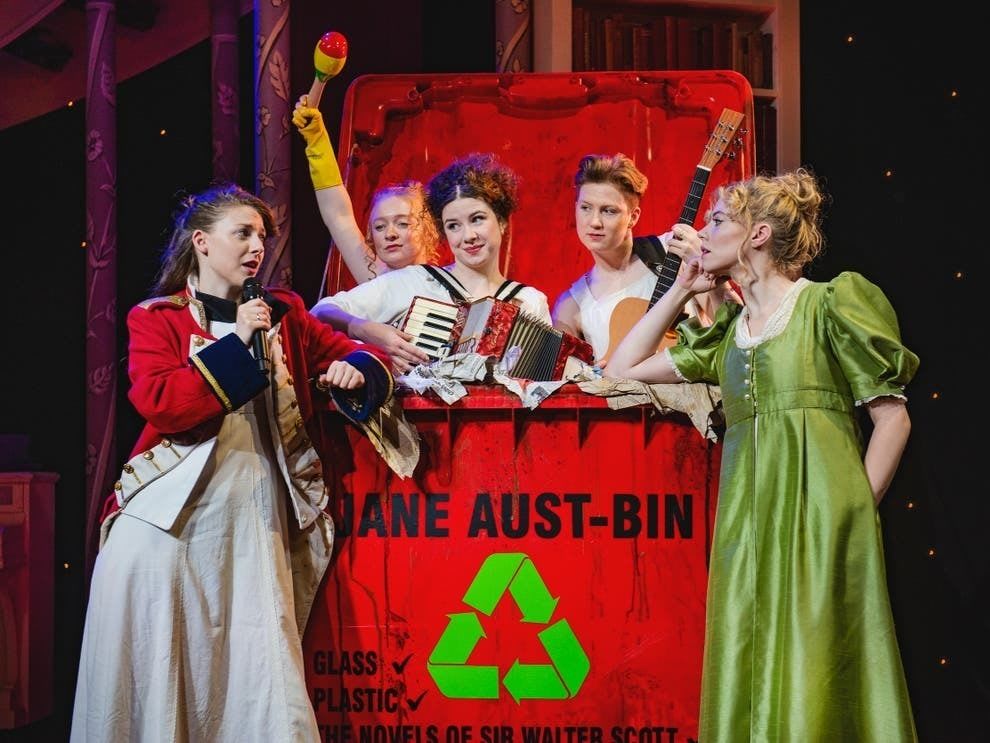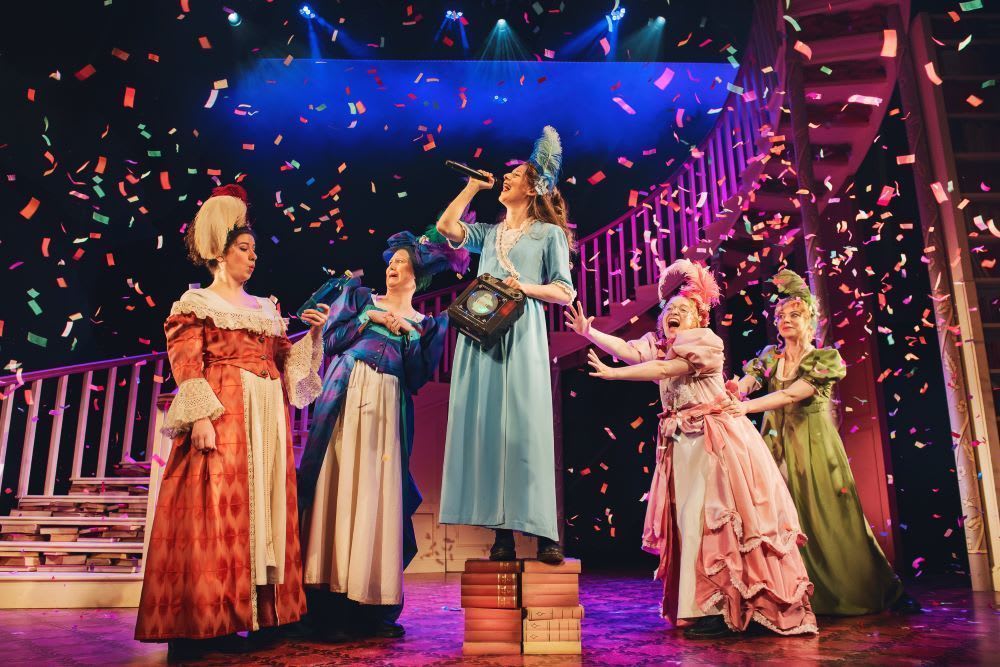 First seen at the Tron and touring, this irreverent but loving reworking of Jane Austen now arrives in the West End provided with an elegant new staircase that swirls up to heaven and books crammed into every crevice of designer Ana Inés Jabares-Pita's setting to remind us of its literary origins.
This is the Bennet family story as told by the servants in their work dresses, big boots and marigolds dusting and polishing before the show begins. "We haven't started yet," they reassure any latecomers, then try to dislodge a rubber glove that's got caught on a chandelier before the lights go down and what must be the best-known opening line in English fiction starts the telling.
It is an all-female cast of just five who now dress up in their employer's clothes to play all the characters with riotous abandon so there is multi-role playing. Austen's biting satire gives way to much broader humour and coarse language that would shock Mr Bennet, who is always seen (or rather not seen) hidden by the chair in which he is reading his newspaper. That its repetition goes on getting laughs shows how well this production works.
Costumes (worn over their maid's dresses) become part of the joke, Lady Catherine de Bourgh's is especially outrageous, and cleverly match character, notably in those of Mr Bingley and his sister, both played (very differently) by Hannah Jarrett-Scott.
Tori Burgess doubles Lydia and Mary and Christina Gordon not only makes a delightful Jane Bennet but plays wicked Wickham and a camp Lady Catherine too. Meghan Tyler plays Elizabeth with a real Austen sharpness (though the book's original would never have told Mr Collins to "F**k off!") but it is Isobel McArthur who gets my biggest bouquet. Not only adapter and co-director (with Simon Harvey), she also delivers a splendid pair of performances as both Mrs Bennet, so eager to get her daughters married off, and a rather taciturn Mr Darcy setting hearts a flutter.
This Pride & Prejudice is a production that is very determined to make you laugh but the interval comes as a break before that becomes too heavy handed. Along the way, there are lively escapes into karaoke as characters pick up a microphone and sing along to a succession of modern hit numbers to match their mood.
An indulgent audience lapped all this up on press night. Such lighthearted relief seems to fit the bill as a fun return to theatre-going and to tempt people back to the West End.
Reviewer: Howard Loxton