Pride & Prejudice* (*sort of)
Isobel McArthur after Jane Austen
Tron Theatre Company and Blood of the Young
Oxford Playhouse
–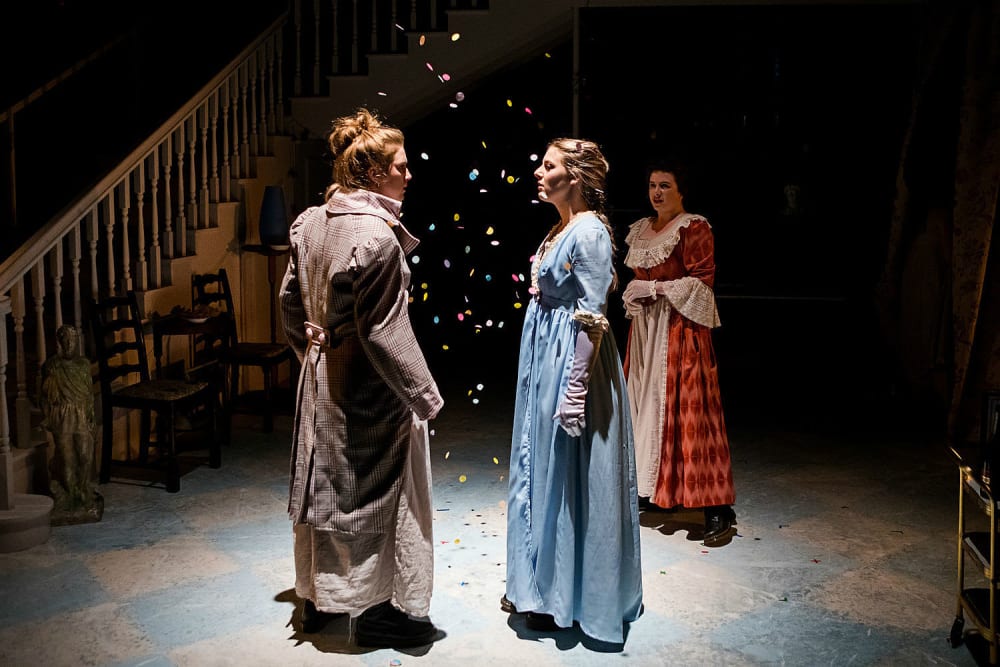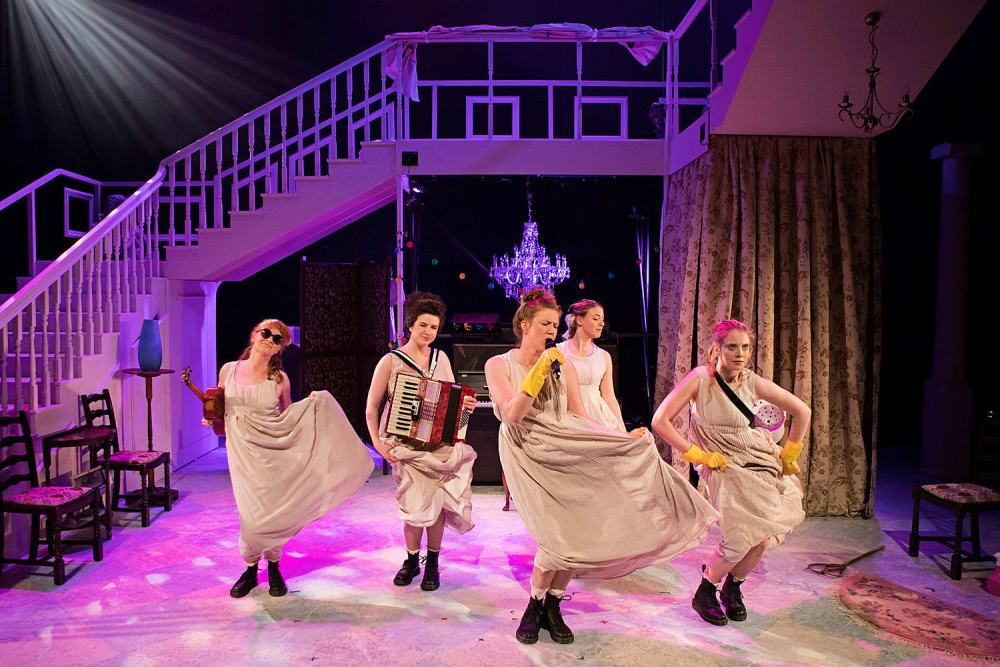 Want to see a show that takes your mind off coronavirus and meltdowns in the value of your pension fund? If so, this is it.
Pride and Prejudice* (*Sort of) is an unapologetically silly, thoroughly 21st-century take on Jane Austen's classic. There's a definite emphasis on the "sort of" in the title: even those who know the book / film / TV versions backwards will not necessarily be able to guess what is coming next, nor how each of the iconic scenes is going to be treated. That's all part of the madcap fun.
All characters are played by an ensemble cast of six multitasking female actors. They first appear as cleaners, mops in hand and surgical gloves covering fingers (this is the only possible reference to current events, I promise). As their upstairs masters and mistresses are nowhere to be seen, this crew dress up and tell us their version of the Bennet family story. Thus, Isobel McArthur, the play's author, appears as both Mrs Bennet and Mr Darcy: there is a splendid moment when Mrs B collapses onto a chaise longue with a packet of frozen peas clutched to her fevered brow, having totally failed to bring her unruly daughters under control. Meanwhile, McArthur dons a period morning coat over her cleaner's pinny when transformed into brooding Mr Darcy—an image that will long remain with me.
It's great fun seeing how your favourite characters are going to be treated. Mine are the odious, toadying Mr Collins (Felixe Forde, all slimy, snaky, wriggling hand gestures) and the imperious Lady Catherine de Burgh (Christina Gordon). Her Ladyship first appears in a vast hat and shades, every inch a once-famous movie star of now indeterminate vintage. Of course, she makes her initial grand entrance down the main staircase to manufactured applause from Mr Collins. Her favourite song, equally of course, is "The Lady in Red" by her descendant Chris de Burgh—although surely, in real life, Lady Catherine would be spinning in her aristocratic grave if she knew that her family had produced a common songwriter? "The Lady in Red" is one of several fairly recent chart songs woven into the show.
Tori Burgess highlights the rather shy Mary, the often overlooked Bennet daughter, in a sensitive performance. There is excellent work, too, from Hannah Jarrett-Scott as Mr Bingley (somehow she makes you like this irritating toff), and from Meghan Tyler, who sweeps up the roles of Elizabeth and Effie.
Directed by Paul Brotherston, the cast's ensemble work is pitch-perfect throughout, and the nearly three-hour running time speeds by. Yes, Jane Austen fans will miss the loss of the beautiful original language, but this really is an ideal production for this moment in time. And, by the way, there is a lovely reference to Colin Firth's famous wet scene: "Oooh, you look dry!" chant the ladies as Mr Darcy enters Pemberley.
Reviewer: Giles Woodforde