Pride and Prejudice
Based on the novel by Jane Austen, adapted for the stage by Simon Reade
A Theatre Royal, Bath, production
Chichester Festival Theatre and touring
(2009)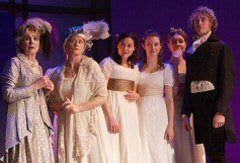 Expecting something along the lines of the BBC 'costume drama' version of this tale of passion in eighteenth century polite society I (along with almost all the audience) was surprised and amused by Reade's unexpected take on this classic novel.
Absurdly comical (or comically absurd - I cannot decide which) it is great fun and would probably have delighted Austen herself as much as it did the Chichester audience. She always preferred a comedy.
There are several very short biographies as most of the cast are recent graduates and therefore very young as befits the characters, but is also something essential for this production which gallops along at high and energetic speed, and with so many changes of venue that designer Christopher Woods seems to have despaired of the idea of a 'set' and opted for a mostly bare stage with props whisked on and off by the cast. There are ten scene changes in Act One and eight in Act Two and a lot of imagination is necessary as some of the inventive ideas involve chairs becoming ornate picture frames, while the dining room is missing the essential table - until it arrives on end yet fully furnished with plates, food and wine glasses.
Making her stage debut in the role of Miss Elizabeth Bennet is Katie Lightfoot in a performance which does credit to her talent and training, only very slightly and momentarily fazed by the cry of 'Hurrah' from one enthusiastic gentleman in the audience at the first passionate kiss between her and Mr. Darcy (Nicholas Taylor in an equally impressive performance). Luckily the moment called for a little laughter.
Actor/musician Victoria Hamnett begins the show with her violin and the cast assemble to the beat, with measured tread, one by one. Music, composed by Richard Hammarton, sets the tone - from light and jolly for dancing (there is a lot of dancing) to regally imposing for the entrance of the formidable Lady Catherine de Bourgh, played by Carolyn Pickles with autocratic hauteur.
A true ensemble piece, every performer contributes hugely to the comic aspect while still excelling in the extensive dialogue which keeps pretty closely to the original novel, and it's impossible to mention every one of the twenty-strong cast, but of course Susan Hampshire (The Forsyte Saga and Monarch of the Glen), without overacting the part, is a joy as the frivolous and rather silly Mrs. Bennet, constantly scheming to get her five daughters married, contrasting nicely with Peter Ellis's Mr. Bennet - a grumpy husband but with an understated dry humour of his own.
Tom Motherdale's self-righteous and foolish Mr. Collins bears a striking resemblance in looks and manner to Rowan Atkinson's Mr. Bean, Lydia Larson's Lydia Bennet is a young flighty replica of her mother, and Violet Ryder's Jane Bennet is as gentle and unassuming as Elizabeth is forthright and passionate. In other words they all give appropriate life to their different characters,
Purists might not approve of the way the story is treated, but the inevitable happy ending ends in a dance and sends the audience out with a smile on its face.
Touring to Richmond, Windsor, Bath, Malvern and Shrewsbury
John Dixon reviewed this production in Newcastle
Reviewer: Sheila Connor