The Primrose Hill Ladies' Club
Bern Bowers
PHLC Productions
Courtyard Theatre
(2011)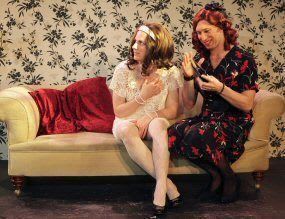 In the 1960s there was a German Jewish émigré who ran a discreet boarding house in Primrose Hill for cross-dressing gentlemen, the inspiration for this new play. Bern Bowers makes his landlady Frau Mili Herschel a Berlin Jewess who somehow survived the war as a cabaret singer entertaining Nazi officialdom, which might have been another play in itself. As played by Kevin Poton 'Auntie' Mili doesn't look at all Jewish so it is conceivable and perhaps this aging lady once had charms that would have captivated Third Reich pleasure seekers.
The play opens and is interspersed with Mili's worn-out renderings of Marlene Dietrich numbers from 'Lili Marlene' to 'Where Have All the Flowers Gone' (which she sings in German) but, despite a final powerful reminder of her wartime traumas, her story is not really explored, though cross-gender casting suggests possible extra layers to it. The play concentrates instead on Mili's three current guests: an American airline pilot, a British army officer and a young Orthodox Jew making his first experiment in cross-dressing.
Benjamin Way's outgoing American Rick and Dan Styles polite North Country army Captain Rog, both very straight, are transformed by frocks - or perhaps not so much transformed as magnified. For all his butchness, in pink minidress and long blonde tresses Rick turns into bitchy drag queen Gloria while Rog is Vera , a dowdy thin-lipped housewife, and Jonathan, whom the others decide to christen (they're not Jewish) Kitty, is quite overwhelmed by the transformation and goes from confident young man to terrified little girl..
Much of the first act teeters on being over the top and seems to be building towards farce. Both the writing and the playing do rather overdo it. Bowers doesn't deal in the inarticulate; he can write extended speeches that actors can get their teeth in, but their length sometimes holds things up. There is an hilarious (and barely believable) episode in Oxford Street that sadly is reported rather than staged. However, that would have made this truly farce and in the second act things become much more serious as Bowers explores the reasons why people cross-dress and we get some home truths from the characters and a serious plea for people to be allowed to 'embrace their true self'.
Gary Wright's direction keeps things moving and nearly manages to meld the mixture of styles the play demands but succeeds best in drawing out the serious strands, though there is a beautifully handled scene between Mili and Matthew Ward's splendid police inspector, a creation who could come straight out of a Joe Orton play, funny but moving at the same time. There is also good playing from Victoria Barker doubling as Mili's new chauffeur Marvin and as Megan, Rick's fiancée who unexpectedly turns up in search of him.
Jewish Jonathan expects cross-dressing is going to be fun (and as alter-ego Kitty need not be Jewish he can go on the town even on the Sabbath) and at first that seems to be what The Primrose Hill Ladies' Club sets out to provide, but trimmed back a little it could be both funnier and. more in balance, though its present ending seems to belong to a parallel play of which only tiny glimpses have been presented.
Runs until 4th June 2011
Reviewer: Howard Loxton