Princess Caraboo
Book and lyrics by Phil Willmott, music by Phil Willmott and Mark Collins
Finborough Theatre
–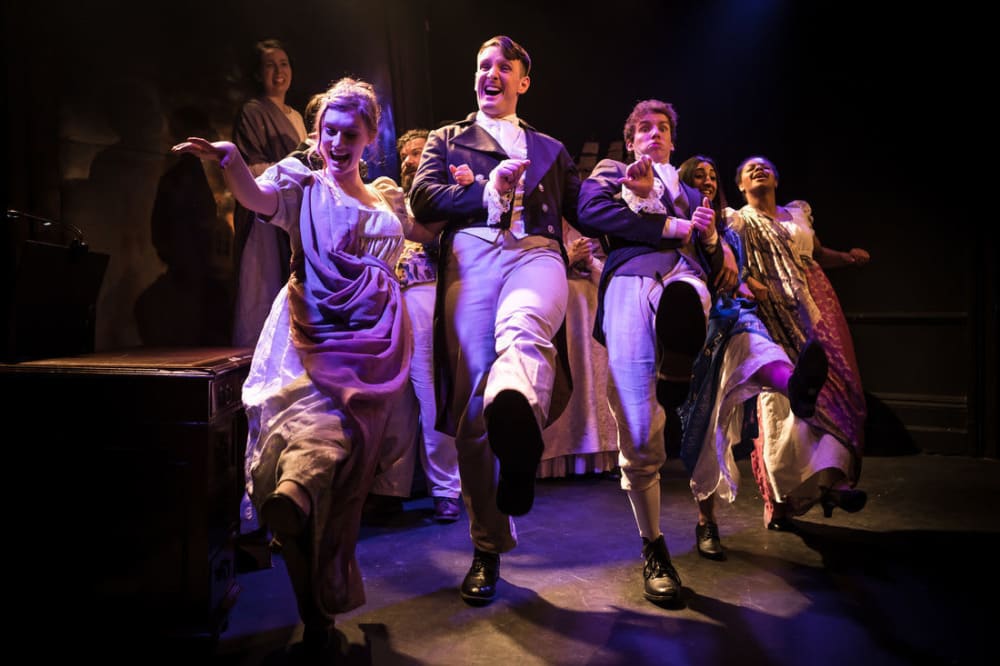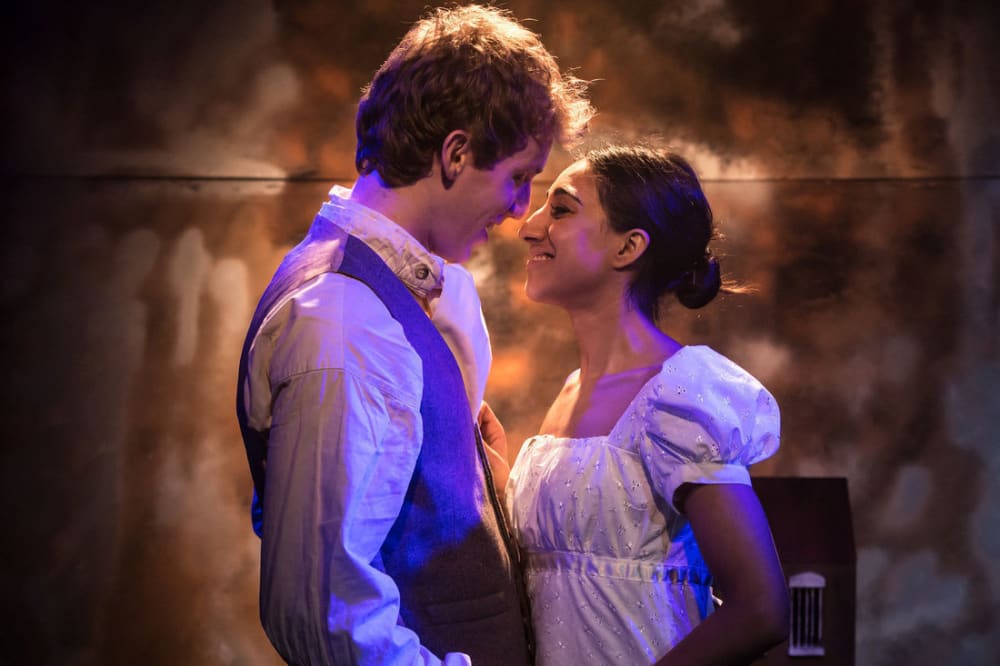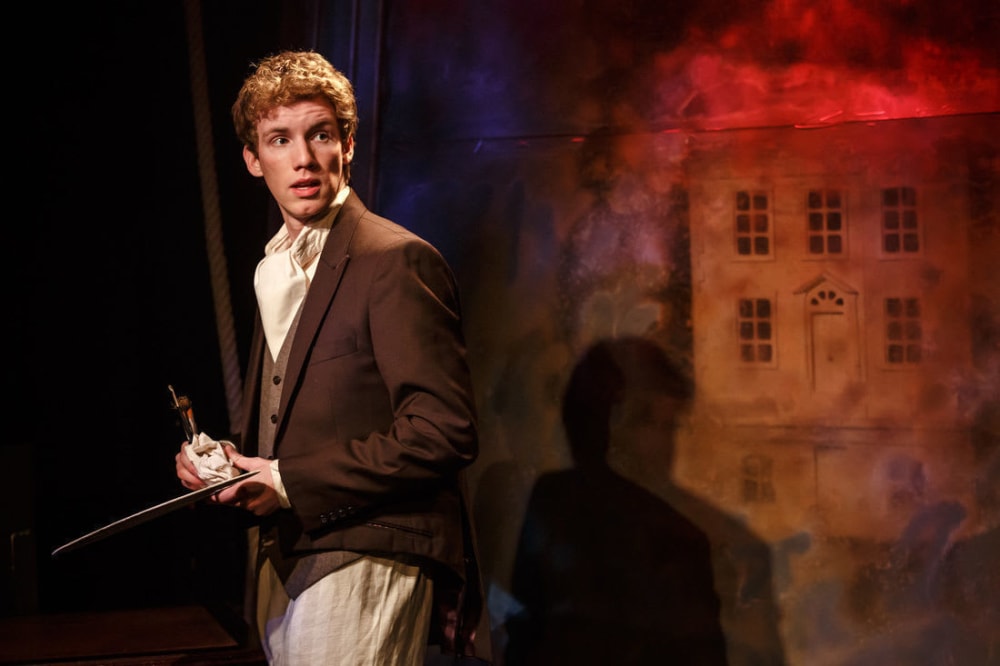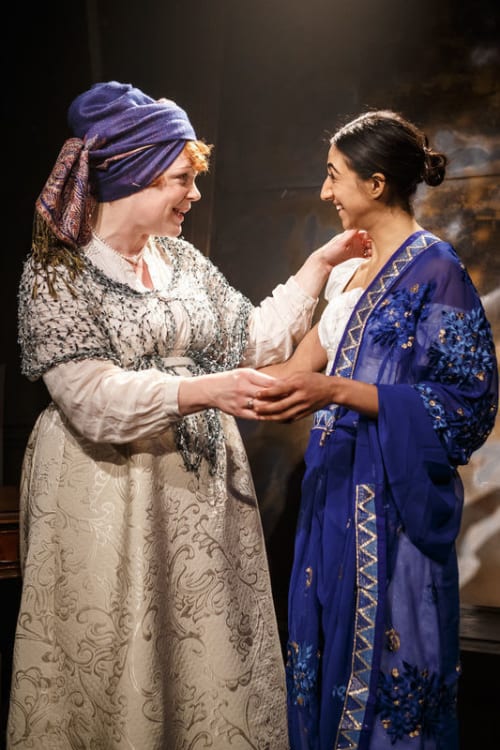 A bedraggled young woman of exotic good looks is brought to Briarwood Hall, home of Sir Charles and Lady Worrall, seemingly rescued from shipwreck. She doesn't speak English. Where has she come from? Soon everyone believes she is Princess Caraboo from a far away land somewhere between Egypt and the Caspian. She's taken up by society and becomes a celebrity, but who really is she?
Much of Phil Willmott's lively new musical is his own invention but it takes the core of its plot from a real Regency scandal. In 1817, there was an actual "Princess Caraboo" who captivated people before disappearing to America where she played the Princess on stage in Philadelphia (though without much success).
He has added both romance and comedy, cheerful tunes and theatrical flair. Originally commissioned by Bristol Old Vic and intended for much larger scale presentation, he has amazingly fitted it into the Finborough, helped by the framing he uses to tell the story.
The conceit is that this a presentation made by Sir Charles Worrall at Briarwood: a little lecture that looks at the idea of lies and lying and uses the Princess Caraboo story to illustrate it, acted out by himself and his wife and their household servants, recreating "dramatic tableaux, in a variety of modern musical theatre styles… to bring the story to life."
Phil Sealey's rotund, cheery Sir Charles is extremely affable, introducing the vicar on keyboard, his "musical automata" and leading a rousing chorus that sets everything in the '20s, the 1820s. Rather cleverly, the amateur set-up is emphasised by a few notes not quite perfect (that's soon righted) and by Sir Charles's request to his footman (who played Lucifer in their last Easter pageant) for "a little more restraint tonight." "Absolutely none," replies Joseph O'Malley's Matthew and goes on to present eye-patched villain Osvaldo with melodramatic flourish.
Lavishly costumed in period by Penn O'Gara, the staging is simple in front of a clouded giant mirror (Willmott regulars will recognize it), with almost no furniture. A desk provides an upper level and designer Toby Burbidge uses dolls' houses and a model sailing ship as a guide to location and somehow Thomas Michael Voss finds space for his lively choreography.
Sarah Lawn's Lady Elizabeth knows how to get her own way at Briarwood but she's a kindly soul, which is lucky for the princess and Eddie Harvey, the young painter who falls for her. Nikita Johal is a smiling princess, jabbering away in her cod Caspian, but coming more fully to life when she lapses into her native Devonian.
Christian James gives a naïve charm to Eddie, who soon learns she is a fake but by then is in love. He has an aristo rival in Oliver Stanley's infatuated Lord Marlborough. Caraboo's connivance may alienate sympathy but, though Eddie may also lie to protect her, James gives him an open-hearted honesty that is totally engaging; it's a winning performance that wins hearts for him.
The songs, most of them comically clever, draw on a tradition of English theatre music from Charles Dibdin to musical comedy, simple tunes you could sing along to with more complex orchestration.
After the interval, a more jazzy lead-in moves to more twentieth century influence and the plot takes a succession of new tacks, now a little too trimmed to bare bones but still enjoyably lively.
Princess Caraboo doesn't labour its consideration of the ethics of lying, though even Sir Charles's lecture turns out to be partly built on a falsehood. Here are lies used for gain, for protection and out of kindness, but this is no heavy discourse on morality, rather a tune-filled romp around an historical anecdote that is full of theatrical fun: a light-hearted evening to enjoy.
Reviewer: Howard Loxton