The Princess and the Pea
Banyan Theatre
Unicorn Theatre
(2009)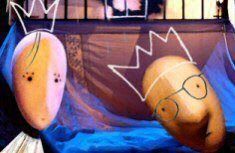 Originally produced by Polka Theatre with two performers, this engaging piece of animated story-telling is now in the hands of just one actress who, with the help of glove puppets, some shadow-work and a small old-fashioned slide projector - all of which she operates herself, presents a seamless mix of acting, puppetry and bed-time story-telling.
Bed-time because, although I saw it with a packed house of little ones in the morning, this is of course the Hans Anderson tale about the prince who is looking for a princess but doesn't know how to be sure that anyone is a real princess until his mother tries the test of placing a pea beneath a great pile of mattresses, a tiny imperfection that no real princess could fail to find uncomfortable.
With a set consisting of a patchwork of old sheets, a couple of chairs, a trunk that opens out to show a room inside, performer Joy Haynes takes us around the world with her little bespectacled prince; with starry skies, racing cars, aeroplanes and a London bus zooming around with the help of that projector, that also adds layer upon layer to the pile of mattresses and carefully helps to place the pea.
The performance is skilfully devised so that at times we get direct story-telling, at others puppets are added as illustration as when with a Mac and a small case on her lap, Miss Haynes slips a hand into a sleeve and adds a head to make the prince who whirls off with his little suitcase. Sometimes the human element disappears from view so that we only see those parts that form the puppet characters.
This is simple theatre that stimulates the imagination but it requires a very accomplished performer to put it all together single-handedly. Its forty-five minutes are beautifully tailored for its target audience of five-year olds and under, though the slightly older children next to me were obviously entranced. The boy kitted-out for his theatre visit in knightly armour was tightly gripping his sword throughout with concentration while his sister in her pink princess dress was loving it too.
At the Unicorn until 1st November 2009
Reviewer: Howard Loxton