Priscilla: Queen of the Desert - the musical
Book by Stephan Elliot and Allan Scott
David Ian Productions, Ambassador Theatre Group
Opera House, Manchester
–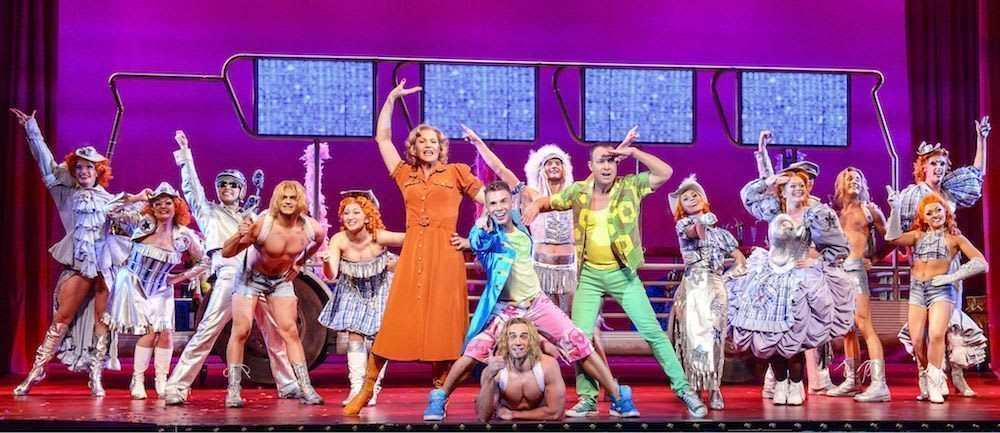 Tick, an Australian performing artiste, is on his way to give a show at a club run by his ex-wife, Marion. Traveling with Tick are Adam and Bernadette.
Adam is better known as Felicia (his drag queen stage name). Bernadette is now Bernadette but used to be Ralph—before her operation—and Ralph used to be a member of Les Girls, a legendary Australian drag troupe. Oh, and Tick is better known to the public as Mitzi (Mitzi Matosis), another drag queen.
Matters are complicated by the fact that the three companions will be driving a bus, (the eponymous Priscilla) all the way from Sydney, the two thousand odd miles to Alice Springs, where Marion awaits them. Three drag queens driving through the most macho part of a country which unabashedly revels in its rugged masculine image. What could possibly go wrong?
Naturally, our heroines and their less than trusty steed encounter the full range of attitudes—from indifference to devoted admiration, detouring through violent homophobia—and are prey to a full set of breakdowns (man, woman and machine) along the road. Add to that the fact that Mitzi's companions know nothing about the ex-wife, and even less about Benji, the six-year-old son who is the real purpose of Tick's journey, and hey, we've got a show!
Priscilla: Queen of the Desert is about as music-laden as a musical can be, with approaching thirty numbers sewn like sequins onto two dazzling, shimmering, glittering acts. Tim Chappell's and Lizzy Gardiner's costumes put the 'C' the 'A' the 'M' and the 'P' into 'CAMP', and the devoted audience would clearly expect no less. The choreography (Ross Coleman and Andrew Hallsworth) the cast manage to pull off in the supersized, überglam gear is impressive.
Right from the opening number, the crowd is up for it and the mood among the packed house is warm and supportive. Jason Donovan charms as Tick/Mitzi, Graham Weaver is all brash energy and youthful bravado as the buff Adam/Felicia, while Richard Grieve's Bernadette prowls, poses and pouts and gets to deliver the lioness's share of the best lines in the sharp and witty dialogue (imagine Sex and the City's Samantha grown into a stylish Amazon and you've about got her).
Of the support cast, Giles Watling's Bob (the Outback mechanic, whose admiration for Bernadette gets the better of him) and Alan Hunter's Miss Understanding (watch for a ruthlessly hilarious caricature of Tina Turner) head a strong ensemble.
The vocal delivery is sometimes straight from the artiste's mouth, sometimes lip-synched to the marvelous 'Divas' who hang, suspended like a choir of angels, to belt out a vivid and varied palette of drag classics (eg "It's Raining Men", "I Will Survive"), peppered with slower, more poignant numbers woven into the story (eg "I Say a Little Prayer", "Always on my Mind").
Performed with great brio, this immense, gaudy party-frock of a show flirts, fondles and gropes its audience shamelessly, yet still fits in occasional pockets of quiet emotion; a touching rendition of Cindi Lauper's "True Colours" providing one of the highlights of the first act.
Priscilla: Queen of the Desert is not for the faint-hearted or narrow-minded; several stereotypes are exploited mercilessly (some might think, in dubious taste)—the number involving Bob's Vietnamese wife and a clutch of ping pong balls might push some audience members beyond their limits. Tonight's audience clearly feel that, to coin a phrase, 'it's all in the best possible taste' and few could resist the production's outrageous sense of fun, even if they wanted to.
At the finale, the company, many now decked out as Australian wildlife, take their well-earned bows and soak up the cheers and applause of a standing ovation. The people have spoken—this Priscilla rules, okay?
Reviewer: Martin Thomasson