Priscilla, Queen of the Desert - the Musical
Book by Stephan Elliott and Allan Scott
David Ian Productions and the Ambassador Theatre Group in association with Nullarbor Productions and MGM on stage
New Victoria Theatre, Woking
–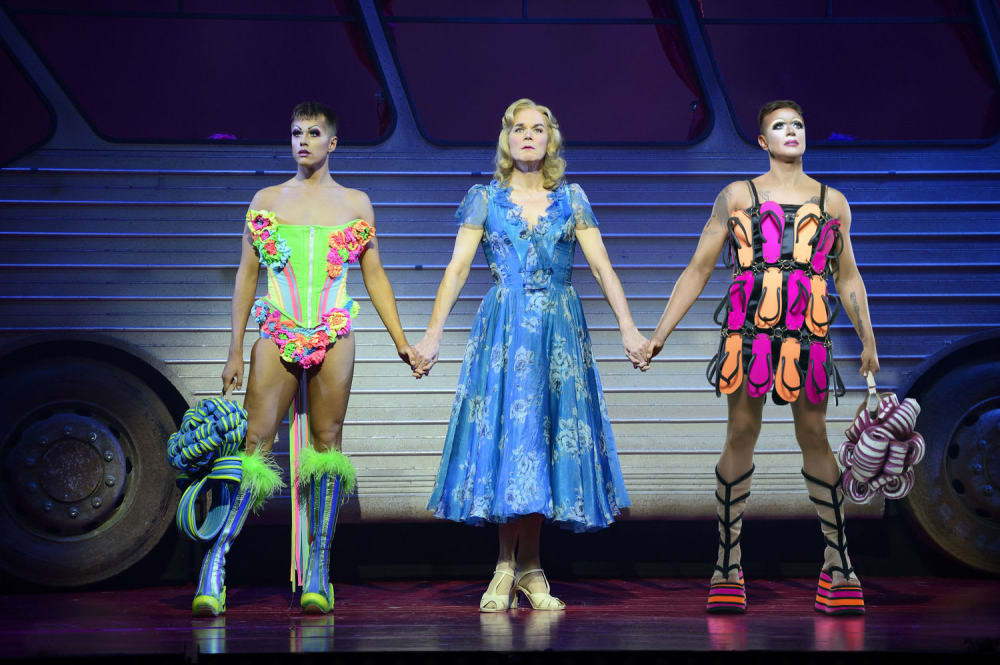 The film The Adventures of Priscilla, Queen of the Desert had a rocky start in life. The original idea of two drag queens and a transgender woman taking a trip across the Australian outback in an old bus didn't impress the financiers at the 1991 Cannes Film Festival one bit, but eventually, and on a very low budget, the film was created, won numerous awards, and this brash extravaganza of a stage musical followed.
It explodes onto the stage in a plethora of loud, loud music and so many flashing, spinning lights that it seems the whole auditorium is on the move. I had to close my eyes, but could still see and hear what was happening, and it lets the audience know what it's in for right from the start with the appearance of Miss Understanding and then glitzy Mitzi with three Divas suspended high above.
The Divas, Lisa-Marie Holmes, Laura Mansell and Catherine Mort, provide superb singing voices for the men, who lip sync faultlessly, and they are almost the sum total of female cast members although sometimes the men are so convincing as women it is hard to tell the difference.
This is true of Simon Green's Bernadette, so in tune with his feminine side that he totally convinces as a tall, elegant woman and the beautiful dresses he is given to wear complete the illusion. There is also an endearing vulnerability to his character, a trait certainly not shared by Julie Yammanee as Cynthia, the delightfully excitable and voluble Filipino ping pong popper—a sketch performed excellently and with panache.
Matthew J Loughran and his band drum up a storm with countless well known hit songs such as "Downtown", "What's Love got to Do With it'', and "Don't Leave me this Way" very aptly played at a funeral, which was funny, but there seemed no reason to include this except as an opportunity for a rather coarse joke about why the deceased was called |Trumpet". In fact there is a notice on the show's web site to the effect that "due to occasional coarse language, parental guidance is recommended for children 15 years and under". I would challenge the word "occasional".
Among the many songs, I especially noticed "A Fine Romance" as it was orchestrated and played so beautifully and soulfully, and a delightful contrast to the frenetic exultation of most others, and Sempre Libera from Traviata was exceptional. You certainly get your money's worth in this show, not only with music, but there are enough exotic costumes, feathers and sequins to sink a battleship. I can't think how wardrobe manage.
Some very tender and moving moments are brought in when Tick/Mitzi (Darren Day) meets his six-year-old son for the first time and is so fearfully anxious that the boy will like him in spite of his profession. Bernadette too, remembering a long-lost love and wondering how she will survive as an ageing drag queen, slows down the frenetic pace of the show for a sympathetic moment, but basically it's exuberant, noisy, crazy and gay in both senses of the word, with Adam Bailey's Adam/Felicia a stereotypical Queen, feline, and bitchy just for the hell of it.
The star of the show is on stage practically from start to finish. Priscilla herself sits proudly in the centre, and even when broken down she is still a star providing an exotic background for the action, and mechanic Bob (Philip Childs) comes to the rescue of the bus and possibly Bernadette too.
This production totally lives up to its reputation and the proof is the reaction of the audience (the theatre was packed) who almost raised the roof with their cheers, applause and an excited and jubilant standing ovation.
Reviewer: Sheila Connor