Priscilla Queen of the Desert The Musical
Stephan Elliott and Allan Scott based on the Latent/Image Specific Films Motion Picture; Musical arrangement by Stephen 'Spud' Murphy
Mark Goucher, Jason Donovan, Gavin Kalin, Matthew Gale, Laurence Myers in association with Nullarbor Productions and MGM on Stage
The Lyric, Theatre Royal Plymouth
–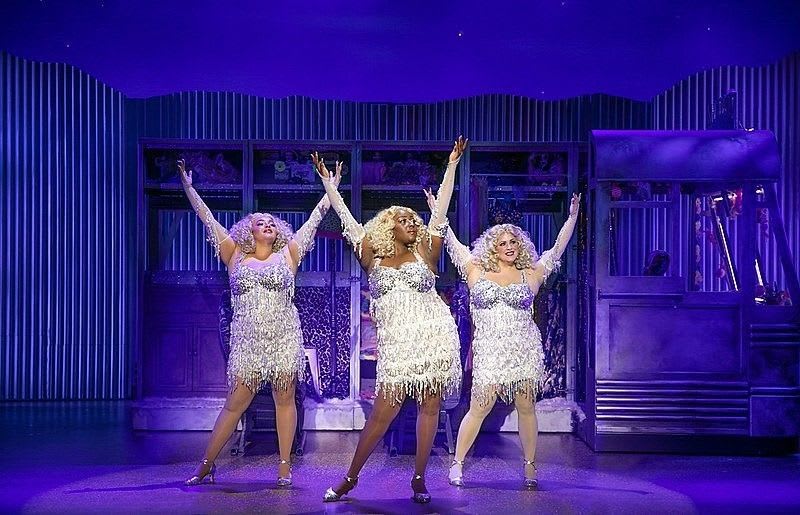 Cult camper alert: the outrageous Outback extravaganza Priscilla is back in town. It's a brash, non-PC, in-your-face flamboyant fandango with ripe language and hefty innuendo, so park your sensibilities before climbing aboard.
Based on the 1994 Oscar-winning film, this iconic smash hit musical, a collaboration between Mark Goucher and original Tick Jason Donovan, is slick and the cast's enthusiasm catching—and there is a worthy message heavily disguised by feathers, froth and fun. Laugh-out-loud moments are balanced with reflective comment on tolerance and relationships while wry or hilarious one-liners come thick and fast (although occasionally somewhat pantomimic and wooden) and the men-only club menace is palpable.
Strictly Come Dancing winner and Holby City's Joe McFadden is quietly believable as Tick / Mitzi, the queen with an heir, summoned by the heartstrings to "Go West"—aboard a pink glitter-panelled, battered bus with warring duo classy transgender cougar Bernadette (Miles Western) and Adam (Nick Hayes—Hollyoaks's Orson), the exuberant Kylie aficionado.
En route, the trio encounters a cross section of the Aussie populace as the talented company steps up (literally on skyscraper heels) as shimmying Tina Turner impersonator, low-slung barmaid with an itch desperate to be scratched, ping pong popping mail order bride, bigots and redneck miners as well as the lovely Bob (Daniel Fletcher) to delight and shock in equal measures.
Gingernut-loving toyboy widow Bernadette channels bitchiness and pathos, journeying from tart with a broken heart to new love through campfire confessions and wry commentary while shaking his / her tail feathers and aiming for dizzy heights (or at least being a 'cock in a frock' on Ayres Rock), Adam / Felicia is all wiggle, sass and thrust with great legs and pert cheek(s) on show.
Jacqui Sanchez is Cynthia, whose "Pop Musik" routine is a showstopper, and with camp classics coming thick and fast ("I Will Survive", "Always On My Mind", "I Love the Nightlife", "True Colours", "It's Raining Men", "Girls Just Wanna Have Fun" and so many more), the dynamic Divas—Claudia Kariuki, Aiesha Pease and Rosie Glossop—absolutely fabulous show-stealers and The Band (with keyboard player Sean Green wielding the baton) tremendous, the music wins the day.
Tom Jackson Greaves's choreography ranges from line dancing through raunchy wriggling to Tiller Girl-esque showpieces while Charles Cusick-Smith and Phil R Daniels provide the campest, craziest, gaudy costumes with towering head-dresses and huge wigs worthy of any panto Dame or Busby Berkeley extravaganza.
Much razzle, plenty of dazzle and not for the easily offended, it's certainly not in the best possible taste… but taste is clearly not what the audience is after as a standing ovation and encores demonstrate.
Reviewer: Karen Bussell