Prism
Terry Johnson
Hampstead and Birmingham Repertory theatres
Festival Theatre, Malvern
–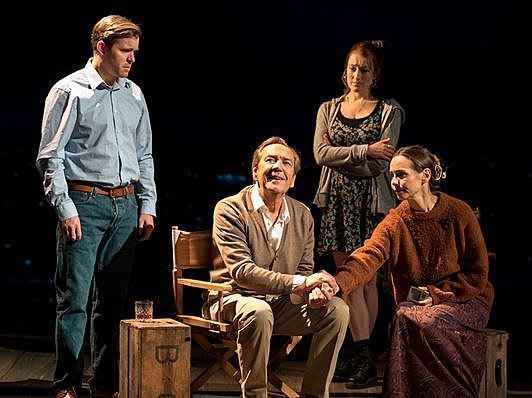 Jack Cardiff spent his whole career with the stars, who were refracted into Technicolor through the prism of his movie camera. Now, as the retired cinematographer suffers increasingly from dementia, theirs is the only light that clearly penetrates his clouded mind.
Jack can no longer recognise his younger wife Nicola, but remembers other women: trying to seduce Marilyn, sleeping with Sophia and maybe Marlene. Those stories Nicola can bear; what is really upsetting is his confession—in these closing sequences of his life—of his greatest love, for Katherine Hepburn.
The play, written and directed by Terry Johnson, is based on the true story of a great artist, whose use of lighting and camera angles made the stars look beautiful in films like Black Narcissus, The Red Shoes, Death on the Nile and The Prince and the Showgirl.
But it's to The African Queen, shot in the Congolese jungle, that his time-shifted consciousness returns, playing out again his English gentlemanly but unsuccessful moves to seduce the witty, wise Hepburn.
One can sense Robert Lindsay's affection for this sly, old rogue, with a Vaudevillean shuffle learnt from his father and his appreciation of the use of light by masters like Vermeer and Rembrandt whose paintings he copies. Lindsay is poignant, compelling, charming, not least in the quick-fire exchanges and repeats, like cinematic fast cuts, that arise from forgetting what was said a moment before.
The action takes place in a garage, converted into a museum of memories by Jack's son Mason, played by Oliver Hembrough. Enter Victoria Blunt as Lucy, the ill-trained, semi-literate care worker who decides it's best to go along with Jack's delusion that he's back on set.
And indeed the theatre set is transformed into that fly-infested riverside, where Hembrough as Humphrey Bogart is frightened of the monkeys and Tara Fitzgerald steps out of the role of Nicola to become the very spirit of Hepburn.
Fitzgerald absolutely nails that distinctive, languid, husky, precise way of speaking and the clever, wary look in the eyes. Blunt is remarkable too, performing exactly the same lines as the uncertain Lucy and later as Marilyn Monroe, but giving them an entirely different resonance—a fine demonstration of art of acting.
Life is temporary, film goes on for ever, Jack says. And it is not death he fears, but the approaching darkness. "Look!" he says. It's his final word, and I'll think of Jack when next I see one of those old films.
Reviewer: Colin Davison