Private Lives
Noël Coward
Chichester Festival Theatre
Minerva Theatre, Chichester
–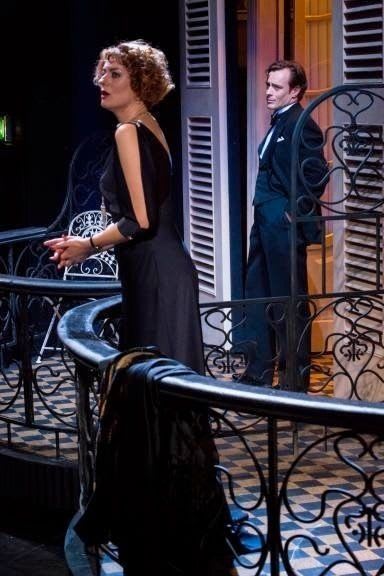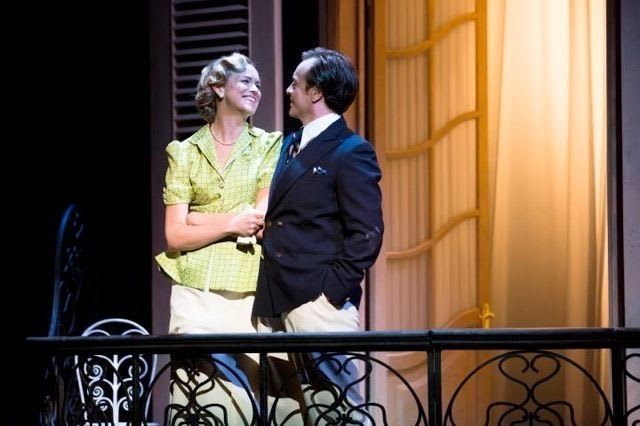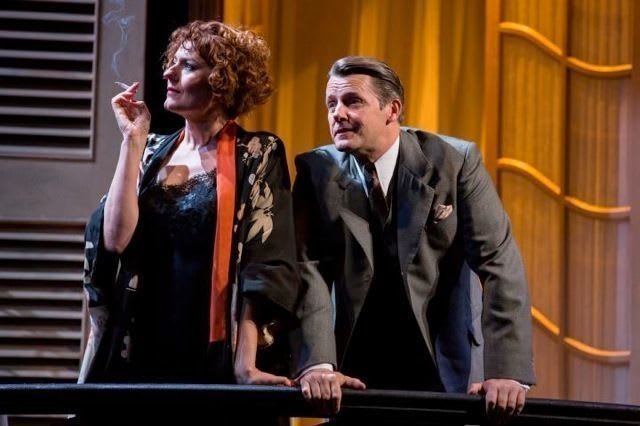 In Jonathan Kent's perfectly cast production, sparks fly—at one point quite literally—as the divorced couple Elyot and Amanda get together again and re-discover what made them separate in the first place.
Toby Stephens and Anna Chancellor play the leads in this light-hearted comedy with more depths than it is usually given credit for, enough emotional and sexual chemistry between them to light up the national grid and more than enough to justify the volatile relationship of their characters where sex is stupendous but the aftermath leads to irritation and even physical violence.
They find themselves on adjoining balconies at a hotel in France, each newly married to another and both couples on honeymoon. I'll never forget the look of incredulous horror on the face of Anna Chancellor's Amanda when she realises that Elyot, the man on the adjoining balcony, is the husband she divorced five years previously.
Their new partners could not be more different. I don't know how Elyot managed to put up with the whining Sybil for long enough to marry her. She is constantly entwining herself around him declaring her love and asking for comparisons with his previous marriage. His responses are wittily dismissive and slightly disdainful—already becoming irritated, even more so when her reaction to a change of plan results in copious tears.
Amanda's Victor, on the other hand, is too much of a thoroughly decent chap to keep her happy, and she's becoming bored. It is inevitable that the fatal attraction between the divorced couple will re-assert itself and they run off to Amanda's apartment in Paris leaving their bewildered partners to their own devices.
Anthony Ward's set for Act One is deceptively simple. Two wrought iron balconies jut out into the stage area and the moonlit edge of the sea is marked by a wavy line of sparkling lights. The scene change to an exotic thirties apartment in Paris, however, is almost miraculous as panels glide and turn, the whole revolves and a slick and rapid placement of furniture transforms the scene so cleverly that it brought a spontaneous ripple of applause.
Here, in this apartment, the last few days have evidently been sexually fulfilling, but now Chancellor, clad in silk pyjamas, restlessly pads the floor, while Stephens, though more laid-back, now seems bored. It's not long before crockery begins to fly, happily with unerring aim as the audience is rather close to the action, and they are in full fight mode when, with perfect comic timing, the abandoned spouses come through the door to a scene of devastation.
Anna-Louise Plowman's Sybil may have been a shrinking violet before, but she has learned enough to assert herself parrying Amanda's caustic, "Heaven preserve me from nice women," with an equally caustic, "Your reputation ought to do that," while a nice touch is Anthony Calf's Victor folding and sorting as he tries to tidy up the mess.
Coward described this play as "a shrewd, witty comedy, well constructed on the whole, but psychologically unstable", although he did believe it had entertainment value. Jonathan Kent's production is two hours of such delightfully entertaining enjoyment, performed to perfection by all concerned, that for once Coward underestimated his achievement. A truly exceptional production to conclude the summer Festival at Chichester. I can hardly wait for next year.
Reviewer: Sheila Connor