Private Lives
Noël Coward
London Classic Theatre
Everyman Theatre, Cheltenham
–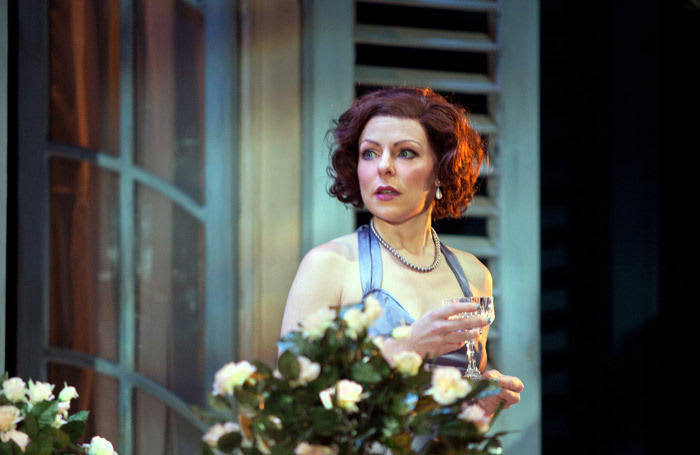 Michael Cabot's production hits all the right notes in this perrenially popular, twentieth century Noël Coward classic.
Before it became a theatrical mainstay, Private Lives was dismissed by some as a "plotless play for purposeless people", yet, as in the plays of Oscar Wilde (to whom Coward owes much), there are depths beneath the glittering surfaces. Coward's script treats language like music, and his four characters like they are part of some divinely conducted quartet. Michael Cabot picks up the baton to lead a mostly well-pitched performance, alert always to structure, pace and rhythm.
I found the opening set, of two exactly mirroring hotel balconies in the seaside town of Beauville, disappointingly crude, even if it perfectly serves the famous plot device in which honeymooner Elyot Chase (played urbanely by Gareth Bennett-Ryan) discovers his room is adjoined to that of Amanda Prynee, his recent ex-wife, also on a honeymoon. They exchange stunned greetings over the rose bushes but, despite their best efforts, old sparks fly and the possibility of elopement grows ever larger.
Those dainty little rose bushes, so neatly trimmed, represent in their pathetic way the physical and moral divide between two low minded, high society figures. When, eventually, Elyot steps through them into Amanda's patch, it seems as if some inviolable boundary has been breached.
There is much to beguile the eye when the action is transplanted to Amanda's luxurious Parisian flat, in which classical French architecture is set-off by a subversive hint of roaring twenties' art deco. The exquisiteness of the set lies in ironic contrast to the marital battleground it swiftly becomes. Expensive furniture is heaved across the set to form barricades, a jazz record is smashed over a head, and silver and china ware is dragged and dropped symbolically across the dinner table in a breakfast fraught with tension.
Olivia Beardsley presents a memorably simpering Sibyl Chase, a posh little naïf who positively froths over with emotion. In contrast Helen Keeley's Amanda represents a steely feminine 'modern' woman—with more than a hint of Penelope Keith about her. Paul Sandys's Victor is a hopeless little terrier, always pretending a readiness to scrap with the older, heavier dog.
Speaking of scraps, credit to fight director John Fryer who presides over a concatenation of unexpected and ferocious stage slaps—some of the best I've seen in the business. Apt, perhaps, for a play that delivers the scandalous line: "women should be struck regularly, like gongs."
If, at times, there was in some of the acting a whiff of superficial Cowardesque posturing, with a diminished emotional investment (hard to avoid, possibly—how does one achieve naturalness whilst also striving after Coward's trademark style, itself a form of posture?) it was all of apiece in a play that delights in surfaces. As Wilde tells us: "all art is at once surface and symbol. Those who go beneath the surface do so at their peril."
Reviewer: G. Mills