Private Lives
Noël Coward
Octagon Theatre Bolton
Octagon Theatre, Bolton
–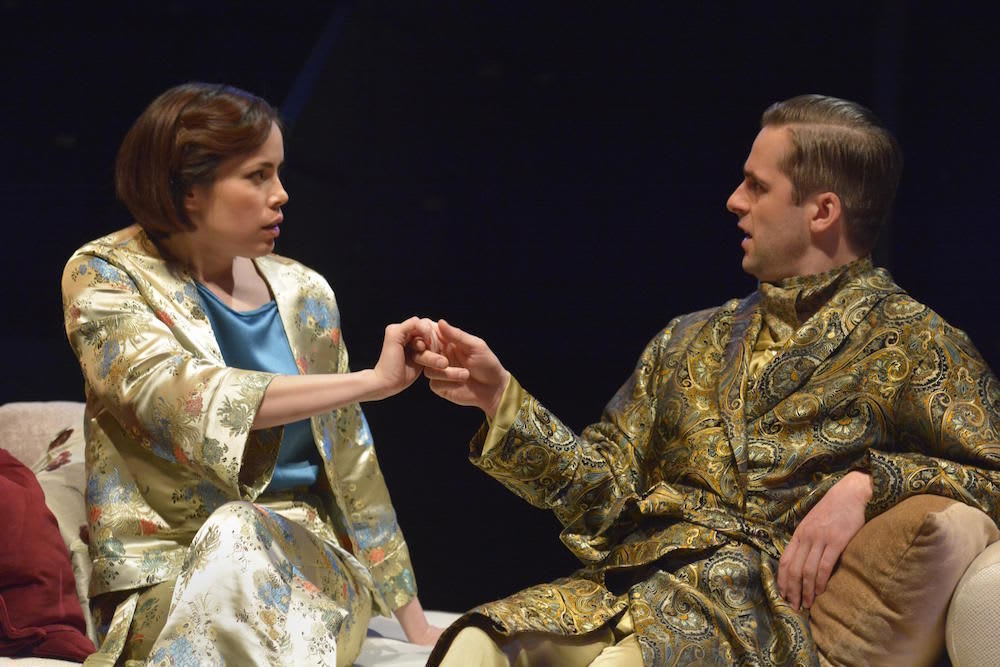 For her first production since it was announced that she will take over as artistic director of the Octagon in July (hear her talk about this on the BTG podcast), Elizabeth Newman has directed Coward's most-revived play.
Written for Coward to perform himself opposite Gertrude Lawrence in 1930, the three acts begin with the remarkable coincidence of Elyot and Amanda, whose famously stormy marriage ended five years earlier, both on honeymoon with their new spouses not only finding themselves in the same hotel but even sharing a balcony in neighbouring suites.
The flames of their passion are rekindled and they sneak off together to her flat in Paris for a rather dull middle act that consists of little but canoodling and the occasional argument until the famous fight at the end. In act three, the foursome is reunited and arguing furiously until the final curtain.
Like most of Coward's comedies, it is a fairly insignificant story with uneven construction and a few longeurs but with some great comic lines—the line "very flat, Norfolk" got a snigger from the audience that sounded to be more of recognition than of amusement.
There is always an issue with Coward in that modern productions shy away from the Coward accent, which sounds ridiculous to modern ears, but the lines don't work half as well without it. Harry Long's Elyot comes the closest without going to extremes, and the comedy benefits from this.
Fiona Hampton brings all the poise and confidence we expect of Amanda, but both her and Long appear and act too young—in the opening, rather than the confident older spouse of Sibyl with a rich line in witty put-downs, he hovers about like a nervous teenager.
There is good support from Jessica Baglow as Sibyl and Niall Costigan as Amanda's pompous new husband Victor, and Terry King has done a pretty decent job of creating fights that certainly produced a few gasps from the press night audience. Chiraz Aïch completes the cast as French maid Louise.
Without very strong, forceful personalities in the roles of Amanda and Elyot, this play can become quite tedious in parts. While Hampton and Long are certainly not bad, they don't give enough to prop up the weaknesses in the script and allow the comedy to flow naturally.
I would imagine that if they were to meet by chance on these same balconies in five years' time, they would bring a great deal more to these roles.
Reviewer: David Chadderton