Private Lives
Noël Coward
The Nigel Havers Theatre Company
Sheffield Lyceum
–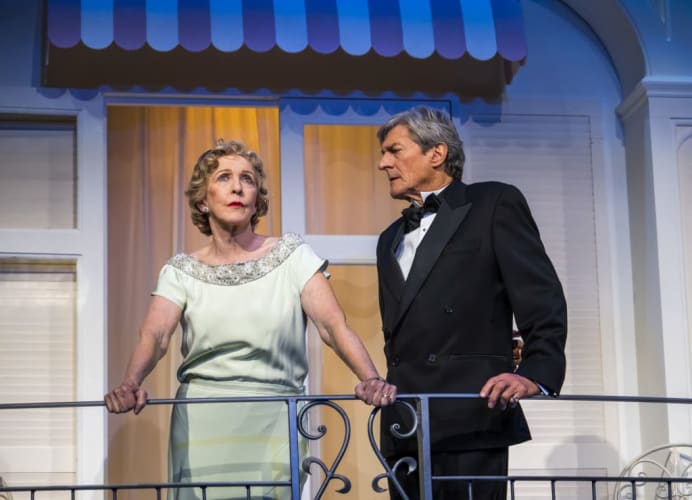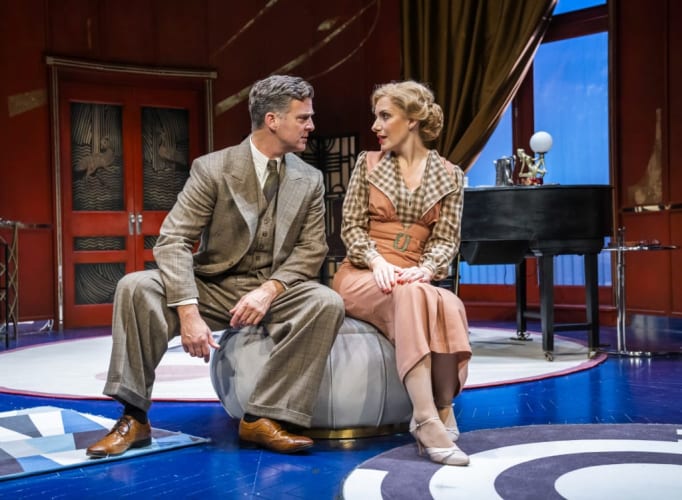 Noël Coward's play written in the 1930s never fails to delight particularly when performed by actors of wide experience and certainty about the comic conventions and period style required.
The play is initially set in a hotel in Deauville where two English couples have arrived after an irksome journey to enjoy the first night of their honeymoon. Elyot and Amanda, married and divorced, are horrified to encounter their erstwhile spouses on adjacent balconies but acrimony gives way to a renewal of love and they take flight to Paris, leaving their new partners behind them. The deserted lovers, Sibyl and Victor, pursue them to Paris with unexpected consequences.
Coward's play is a masterpiece of repetitive patterning, in plot structure as well as dialogue exchanges. In the opening sequence, Elyot is irritated by Sibyl's insistence in referring to his previous relationship with Amanda, and the pattern is repeated when Victor annoys Amanda with similar enquiries.
The repartie in the play is one of its great pleasures. "How did you find China?" Amanda asks Elyot. "Very big". "And Japan?" "Very small". You can almost hear Noël Coward's voice in that clipped exchange.
Patricia Hodge and Nigel Havers head up the cast of the current touring production amply supported by Natalie Walter and Dugald Bruce-Lockhart as the deserted couple and a brief vignette by Aiche Kossoko as a notable French maid.
Hodge and Havers bring subtlety to the complexity of their roles which variously include sentiment, romance, wit, sarcasm, aggression and physical violence. Havers mines his role for comic possibilities with a tendency to reinforce the spoken word with amusing physical gesture and a range of facial expressions which reach out into the audience.
Hodge's performance is more inward and adds a convincing depth to the characterisation of Amanda, but her comic timing and engagement in stage business is immaculate and she has a beautiful singing voice.
Walter is an effective Sibyl, pretty and nice with a slightly irritating little laugh in the early scenes and a splendid transformation into a shrieking fishwife by the end. Bruce-Lockhart is a stolid Victor which is nowhere more in evidence than in the boxing match with Elyot when his immovability is in such contrast to Havers's frenetic dancing about.
Director Christopher Luscombe finds opportunities for all sorts of joyful comic business, notably in the final scene when Amanda and Elyot sitting on a sofa watch an argument between Sibyl and Victor as if it was a tennis match. Perfect synchronicity!
Designer Simon Higlett provides two sun-drenched balconies for the opening scene and after the interval a luxurious Parisian apartment with a huge window curtain and Art Deco furnishings.
One of the great pleasures of the production is to see two mature and experienced actors bringing a lifetime of accomplishment to their performances. Hodge can sing, Havers can play the piano and they both deliver an impressive tango around the furniture in the apartment.
In an interview, Havers said, "it's a very funny play about love and friendship, so I hope audiences are going to enjoy themselves. Goodness knows I think we're all ready to enjoy ourselves." We are, and this is the way to do it.
Reviewer: Velda Harris