Private Lives
Noël Coward
Oldham Coliseum, Harrogate Theatre and Anvil Arts co-production
Haymarket Theatre, Basingstoke
(2011)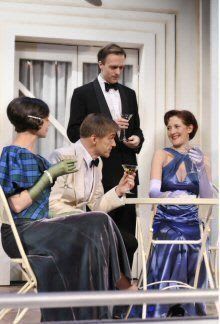 Private Lives was written by Noël Coward in less than a week, whilst he was convalescing in Shanghai from a bout of influenza, and first performed over 80 years ago at The King's Theatre in Edinburgh.
It is a comic masterpiece embracing, 'The Master's' wit and dazzling dialogue and is lovingly brought to life in Robin Herford's effervescent and stylish revival in this co-production for Oldham Coliseum, Harrogate Theatre and Anvil Arts, at The Haymarket Theatre Basingstoke.
The play begins on the balcony of a luxury hotel in the French Riviera where the dapper divorced Elyot (James Simmons) is honeymooning with his much younger second wife, the petulant Sybil (Maeve Larkin).
Staying in the adjoining suite is Elyot's ex -wife Amanda, a fiery performance by Jackie Morrison, who is also honeymooning with her rather boring new husband Victor (Christopher Naylor)
The strains of Moonlight Becomes You waft above the sounds of the waves when Elyot and Amanda meet across the balcony. Their five years of separation and smouldering passion is rekindled, "To hell with love, yet here we are starting again and in love again," exclaims Elyot.
They decide to elope to Amanda's Parisian apartment, the height of 1930's opulence, beautifully designed by Michael Holt, leaving their respected spouses to pick up their shattered marriages.
At first it is an idyllic bliss but as the rush of romance begins to pale their relationship creates a chemical friction that leads to pent up emotions exploding on stage and violence with some hilarious fight sequences directed by Renny Krupinski. When Amanda breaks a record over Elyot's head there were gasps from the audience and hilarious laughter. This was a rollercoaster of relationships that veered from the passionate to ferocious fighting.
James Simmons and Jackie Morrison were excellent as they sparkled and sparred to gain the upper hand in what were stellar performances, originally played by Coward and Gertrude Lawrence.
The hapless Sibyl and Victor arrive at the apartment and the runaways will have to face the music. But this is a play about manners in an age where gentlemen did the proper thing. So breakfast is served by the French maid Louise (Tess Alshibaya) in an atmosphere of curt politeness. Whilst underneath all the tensions were bubbling away.
This was an impressive production hugely appreciated by the audience and the cast richly deserved the enthusiastic applause. Highly recommended.
David Chadderton reviewed this production at Oldham
Reviewer: Robin Strapp