Private Peaceful
Michael Morpurgo, adapted by Simon Reade
Trafalgar Studios 2
(2006)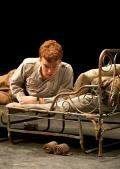 The Trafalgar Studios, one of London's most exciting new venues, plays host to Bristol Old Vic and Scamp Theatre's production of the award-winning First World War play, Private Peaceful. The Studios' location, a stone's throw from Whitehall and one of London's most celebrated war memorials, Nelson's Column, could not be more fitting for this play about the pity and horrors of war.
Alexander Campbell plays Private "Tommo" Peaceful, a young Devon lad inspired by older brother Charlie - and by the fear of otherwise seeming a coward - to join the army in France and fight for his country. The action of the play takes place on a single night in 1916 as eighteen year old Tommo, having disobeyed the command of his Captain, counts the hours until dawn, when he will face the firing squad and pay the ultimate price for his "cowardice". Knowing that this night will be his last, Tommo stays awake, remembering the days of his youth in the fields of Devon, to which he knows he will not now return.
Award-winning children's author Morpurgo was inspired to write the story when he came across the name "Private Peaceful" on a grave on the Somme. One of his stated aims in writing it was to highlight the failure of the British government to grant posthumous pardons to over 300 British soldiers who were shot for cowardice in World War One, most of whom it is now generally accepted were probably suffering from shell shock and other severe psychological effects of their experiences on the front line. Both France and New Zealand have pardoned the soldiers they condemned to death, but the British government has yet to do so. After an award-winning regional tour, Simon Reade has brought his adaptation of Morpurgo's story to the doorstep of Whitehall's decision-makers.
Even without the political aim which gives it such living, breathing relevance, Private Peaceful is a beautifully crafted elegy to the experience of British youth in the trenches, by turns funny, heart-warming and poignant. Flashing between the rural idyll of Tommo's youth and the horrors of front line warfare, between evenings spent poaching in Devon and nights of grenades and gas attacks on the Somme, Reade conveys the full horror of war as it impacts on the individual solider, turning him from a shy, slightly gauche boy into a brave yet terrified man.
Alexander Campbell's brilliant performance engages the audience from the start. In the Saturday matinee performance I attended, filled with young children and their parents, there was not a murmur for the entire eighty mintues. Playing not only Tommo, but also older brother Charlie, Captain "horrible" Haines, a German soldier, kindly schoolteachers, and even Molly, the prettiest girl in the school, Campbell gives such credible vitality to all of the characters he plays that it is hard to believe, looking back, that the entire story was told by one actor. Bill Talbot's beautifully detailed yet simple set, in which camp bed doubles as trench and a pile of clothing becomes Peaceful's poignant memorial, mirrors the seeming effortlessness of Reade's adaptation and Campbell's performance. Tim Streader's lighting and Jason Barnes' sound are naturalistic and subtle, but can turn a bright Devon day into a night in the trenches in an instant.
Private Peaceful is an important and brilliantly executed piece of theatre. In an afternoon, Reade's production conveys to children studying the First World War for the first time - and to their parents watching events unfolding overseas now - what the text books and museums cannot - the intensely personal tragedy and pity of war. As we walked out into the Saturday sunlight, a little girl sitting next to me said to her mother, "I don't think that was very fair, mummy. He was really brave." I wonder if Whitehall was listening.
Reviewer: Louise Hill