Private Thoughts
Alex Martinez
Theatre Ortas
Hackney Empire Studio
(2008)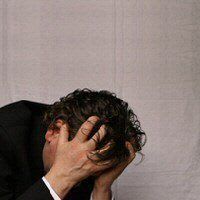 Eric Godber (Kevin McGowan) is a man having sexual fantasies about a little girl after being unexpectedly exposed to a pornographic video of a child. He fears that he may not be able to stop himself from turning is fantasy into action. He takes himself to a private clinic seeking help and it is there this two-hander finds him, in a consulting room waiting to see a therapist.
Through its four scenes the action consists entirely of the therapist Dr Chase (Clara Onyemere) trying to get him to describe his fantasy and uncover its true origins, but this is a man so full of apparent self-disgust that he cannot face up to doing so. He is being driven either to put his fantasies into practice or to commit suicide to prevent him doing so.
Elegantly mounted in a minimalist environment with only back-lit white gauzes opposite a white wall, a carpet a padded bench and two smart chairs on a traverse stage, Kevin Hely's direction keeps attention concentrated on the actors. Apart from the sound of people talking and footsteps passing in the street or corridors outside before the action starts, there are no distractions. I do not think an analyst's professional code would allow the physical contact and emotional involvement which Dr Chase develops with Godber but perhaps it is permitted in this kind of therapist situation and it is dramatically viable, indeed, it helps make the situation work as theatre.
This is not a gut-churning look into the mind of a practicing paedophile uncovering stories of himself being abused which is so often put forward to explain this deviation from acceptable behaviour, though that is what the investigative process of this therapist leads one to expect.
As doctor and client become ever more confrontational, it touches on the problems of a partnership where one person is happy with the status quo and the other goes on developing differently, the anger of a displaced sibling, the isolation of a child separated from home and parents and the inability of someone who despises loss of cool to allow release of their own anger. The action lies simply in the establishing of trust, the uncovering of information and the release of inhibition and it is the extraordinarily sensitive playing of these two actors that makes it work. Clara Onyemere plays the therapist as sensitive but (almost) always in control and Kevin McGowan manages always to find a little further to take his tension and intensifying self-loathing. It is a play that only touches the surface of the subjects that it raises but provides the opportunity for two fine performances.
At Hackney until 25th April
Reviewer: Howard Loxton