The Producers
Mel Brooks and Thomas Meehan; music and lyrics by Mel Brooks
Sunderland Empire and touring
(2007)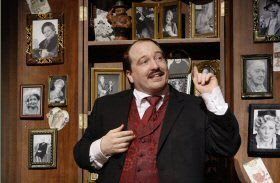 In this touring production of The Producers Cory English plays Max Bialystock, Russ Abbot Roger DeBris, Emma-Jayne Appleyard Ulla and Joe Pasquale... Joe Pasquale. His trademark squeaky voice (they even incorporate "He really does talk like that" into the script), with the barest trace of a New York accent, had the audience laughing from the off, but it was Pasquale they were laughing at, not Leo Bloom. Pasquale is not an actor and his singing rarely rises above the competent. When Bloom returns from Rio in the second half to intercede for Bialystock in the court scene we see, according to the script, a changed man, but Pasquale gives us the same body language, the same limited vocal range and the same low energy - there is no change.
Cory English as Bialystock is a different matter. Although a little man, he dominates the stage and has enough energy for two (or more!) and he does manage to lift Pasquale to an extent in their scenes together. His physicality and comic timing are superb. To erase the image of Zero Mostell from my mind, I thought, would be an impossible task, but English manages it.
As disastrous director Roger DeBris, Russ Abbot lacks the campness I would have expected and which his first appearance in drag requires, although he comes into his own as Hitler in the Springtime for Hitler sequence. However his assistant Carmen Ghia (Robin Sebastian in an incredible wig) is camp enough to shelter a whole boy scout troop.
Franz Liebkind, of course, is a gift of a part for any actor and Alex Giannini makes the most of it, as Emma-Jayne Appleyard makes the most of her incredible legs and superb figure - and she has a nice line in comedy, too.
Indeed, the whole company throw themselves into the production with enormous energy. As I have said repeatedly in reviews, we have great strength in depth in music theatre in this country and a vast number of chorus boys and girls who are quite capable of giving everything a director could demand of them. Here they have to do an awful lot - the girls in particular switching from show girls to sex-mad old ladies - and they handle with with a facility which makes it look (although it isn't!) easy.
It's an enjoyable night out, particularly if you enjoy (as this audience, myself included, obviously did) Mel Brooks' trademark bad taste and the way in which director and choreographer Susan Stroman, ably assisted by set designer Robin Wagner and costume designer William Ivey Long, bring it to vibrant life. It will undoubtedly sell out.
But it could have been better...
"The Producers" runs until 23rd June
Sheial Connor reviewed this production at the New Victoria Theatre, Woking
Reviewer: Peter Lathan