The Producers
Mel Brooks and Thomas Meehan; music and lyrics by Mel Brooks
New Victoria Theatre, Woking, and touring
(2007)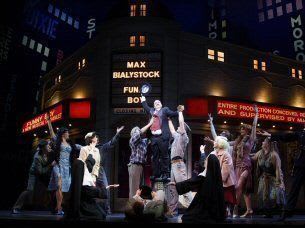 The Producers, after a rather shaky beginning in 1968, became an enormously successful comedy cult film giving Mel Brooks his start in the big time and making a star of Gene Wilder, but would it transfer to the stage? Brooks had his doubts and I must admit so did I, but we were both wrong – it happens! After 2,500 performances on Broadway the show transferred to London, where it has been playing to packed and appreciative houses for the past three years, and is now embarking on a national tour, although, surprisingly, the film of the stage show flopped.
There must be many producers who wondered where they went wrong – in this show our hero Max Bialystock wonders, "Where did we go right?"
In case there is anyone who doesn't know the story, Bialystock is a producer who relies on a constant stream of little old ladies (rich and all sex-mad) to back his shows, most of which die the death. Accountant Leo Bloom, while checking the books, muses that a flop could make more money than a success. Over subscribe the show and when it fails the backers won't expect any payment. All they have to do is get the worst script and the worst director - they can't fail to fail. Their plans go horribly, and hilariously, wrong.
Native New Yorker (and now British resident) Cory English understudied the two lead roles when the show opened at the Theatre Royal, Drury Lane, returning in the role of Max in its final year, and now has made Bialystock totally his own in a superbly expressive comic performance, most especially when he holds the stage alone, confined in a police cell and seeing his life flash before him – with a break for intermission and an exorbitantly priced ice cream.
Leo Bloom is played by Joe Pasquale – a man who can make anybody laugh, including his co-star who had to push him offstage so he could get on with his next song. Joe took singing and dancing lessons before embarking on this show and while I don't think he will make the big time as a singer, his dancing is coming along nicely and his comic timing is perfection. This pairing is a dream of a comedy duo which had the audience whooping with appreciative laughter, every move and gesture in the high speed production accomplished to perfection.
Excellent comedian and actor Russ Abbot is their chosen director Roger Debris, first appearing in an extremely glamorous frock, even though he thinks the headdress makes him look like the Chrysler building. Abbot had been considering turning his hand to directing – what a beginning! His assistant Carmen Ghia is a flamboyantly over-the-top Robin Sebastian who insists he is much more camp in his everyday life. Impossible!
Statuesque and glamorous dippy Swedish blonde Ulla is Emma-Jayne Appleyard who can really sing and dance.
This is a huge show, with an enormous cast, and multiple scene changes which happen so swiftly you are hardly aware they have happened. A fourteen piece orchestra supplies the music and Susan Stroman's sparkling choreography is performed to great effect by an assortment of diverse characters including the goose-stepping storm troopers wheeled on (literally) in the "Springtime for Hitler" routine. In a show which insults and makes fun of everybody, from Hitler "who could paint an entire apartment in one afternoon – two coats" to acrobatic little old ladies tap dancing with their zimmer frames, no one could take offence.
The show is "shocking, outrageous, insulting – and I loved every minute of it!"
Touring to Sunderland, Birmingham, Bristol, Southampton, Cardiff and reaching Edinburgh in January 2008.
Peter Lathan reviewed this production at the Sunderland Empire
Reviewer: Sheila Connor