Professional
Charlotte Cromie
CUSP
theSpace on the Mile
–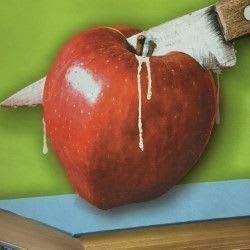 Teaching can be a tough profession. There are the unruly pupils, the challenges of achieving good exam results and then working with your colleagues.
In Charlotte Cromie's new play Professional, we enter the world of the staff room when the school's new electronic door-locking system is activated, following a previous break-in, at five-thirty on a Friday evening.
The problem is it now looks like four teachers are stuck there for the weekend. It's somewhat a difficult premise to believe but it gives the actors the opportunity to explore their personal thoughts about school, life and each other.
Robin is leaving after, "practically running the English Department for the past three years." His present of a bottle of wine with a screw top is not really appreciated.
Deputy Head Hattie tries to remain professional whilst new Drama teacher Don is trying to establish himself amongst his colleagues and suggests that they play a "game".
Meanwhile, Mel is forced to confess to Robin which student she would like to have sex with, much to the angst of the Deputy Head.
As tensions mount, secrets are revealed and the delicate relationships between students and teachers are explored.
In a taut 50 minutes, the cast tackle big issues with confidence in what is an entertaining play.
Reviewer: Robin Strapp