Project E: An Explosion
The Work Theatre Collective
BAC
(2006)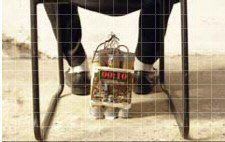 The winner of the Oxford Samuel Beckett Theatre Trust Award 2006 comes to BAC for a three week run following its development by the Work Theatre Collective. The piece is billed as an exploration of the explosion as "a metaphor for our age"; an interesting concept, but fraught with potential for the kind of half-baked pretension displayed all too often in university campuses across the country, and although the result in Work Theatre's hands isn't a complete disaster, it falls into pretty much every "experimental theatre" trap going.
The main problem is that Project E hasn't the slightest idea of where it is going or what it is trying to say. Thrown into the mix, in no particular order, are (i) a series of interviews between increasingly obscure famous people who have something vaguely related to explosions and/or their causes and effects to say, (ii) an interesting and well-acted though entirely predictable sub-plot (well, it occupies about the same stage time as a sub-plot would, if there was a main plot) about a retired policeman and his harrassed police officer daughter and (iii) a man shouting a definition of "explosion" into a microphone.
Perhaps the judges read the script and thought this was sufficiently disjointed to be an appropriate homage to Beckett: it certainly is, but it lacks any overarching cohesion whatsoever. The blurb suggests that Project E is about how we experience dramatic events and dramatise our own existence, "from Hollywood to the nightly news, from the nuclear family to the violence of radical extremists", but having presented the audience with the various faces of "explosion" (and not particularly compellingly - one of the play's worst mistakes is to have Hitchcock explain the concept of suspense over surprise at the beginning, and then proceed to deliver neither), the piece simply peters out. The interval could as well have been the end, such was the lack of structure, and the end, after another hour of the same old stuff (perhaps the other nod to Beckett?) was more than welcome.
Some interesting ideas, excellent acting from the police officer and daughter sub-plot team, and the overall concept could have made a good play, but weak direction and writing which needs a lot of tightening up let Project E down in the end. A ruthless revision might yet transform it, but at the moment it is more damp squib than firecracker.
Until 19 November 2006
Reviewer: Louise Hill