Promise
Sophie Angelson
Enkephalé with Bristow House Productions and W Entertainments
Rosemary Branch Theatre
–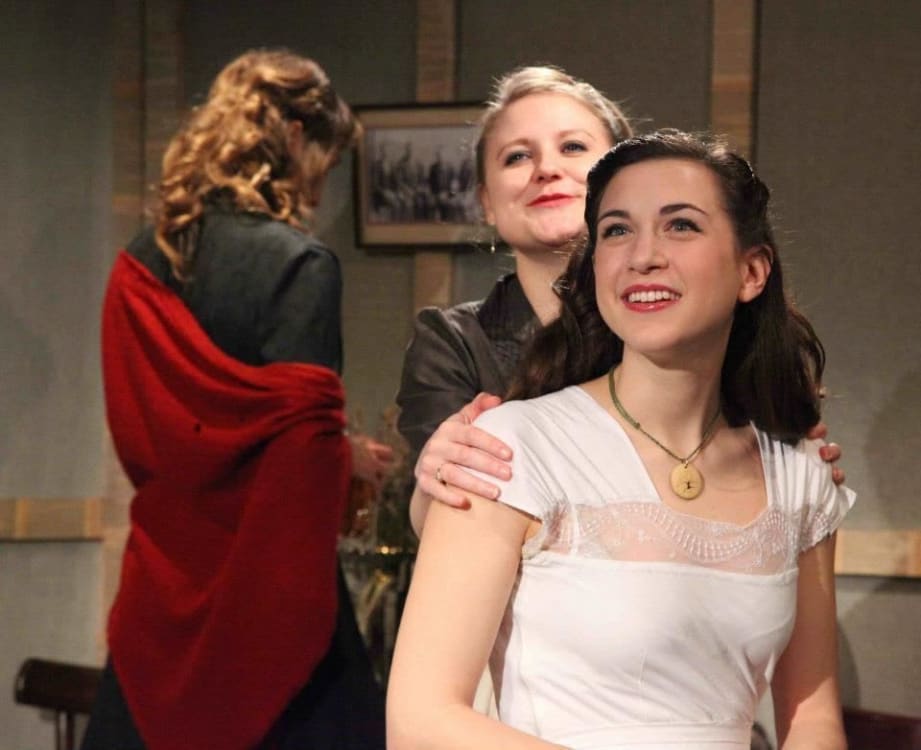 This is an adaptation of Anton Chekhov's Three Sisters which Sophie Angelson has transposed to a small town in Nebraska at the beginning of the 1940s.
Here, eldest sister, school teacher Olivia, on whom falls most of the responsibility for running the house, Marie, another teacher, married to a man she respected but never loved and now finds tedious and youngest Irene, dreaming of a future in which she can do something useful and find real romance are trapped dreaming of the day when they might get back to New York and its vibrancy.
They are stuck there because their father, a military man of some standing, was posted to the army installation some way outside town and it is from there that and old friend of their father's, a Colonel Vershinin, turns up to see him and the three women whom he knew as little girls in New York.
Meanwhle, their violin-playing brother Andy has fallen for a local girl whom his sisters find gauche and dismiss as common—but it is she who gains control of the household after she marries Andy.
The isolation and wide open spaces of the Great Plains of the Mid West are an appropriate equivalent of the setting of the Prozorov's home in Chekhov's play and the plot is much the same and follows much of the same dialogue as the original but there are some notable changes, especially in the ending.
It still begins on Irene's twentieth birthday but this is the first anniversary of the death of her mother, not her father who is still alive but ill, a reason for them not going back to New York. The cast list has been reduced: there are no servants in the house, the other soldiers who visit are reduced to one and the young officer who is in love with Irene is turned into a local lad who has known her since childhood. There is no town conflagration and a tragic death near the play's end doesn't happen.
In seeing an adaptation of so well-known a classic, it is inevitable that part of the audience will be comparing the new characters and reworked situation with the original even as they watch it. This script sticks sufficiently close to make one wonder, "what are they going to do about that when we reach it," and needs production and performances to be absolutely riveting to avoid that.
There is nothing wrong with reworking a story, provided it is not in copyright (when, of course, people try to get away by calling it an homage); Shakespeare frequently reworked other people's plots and there is a long tradition of modernising the Greek classics with some remarkable results from writers of the stature of O'Neil and Anouilh. It is one thing to simply translate into another language or culture and updating to an appropriate new period to feel closer to a contemporary audience but Angelson seems to have aimed to do more.
To a great extent she has succeeded for she has made a transposition that, instead of the pre-revolutionary malaise of Imperial Russia, gives us a Middle America that has just survived the Depression, is ignoring what is happening in Europe and is then overtaken by Pearl Harbour. This is a different society where actions and the expression of individual feelings can be much more explicitly presented.
However her characters are very caught up in their own predicament. Although one character does seem aware of what is coming, there is no attempt to explore the economic and political background. Though much transposes easily, it seems odd that having introduced a still-alive (if offstage) father his visiting friend Vershinin never actually goes through to see him.
Designer Sarah June Mills suggests a realistic sitting room and other parts of the house leading off in her half-stylized setting, enabling us to see incidents out of sight and hearing of those in the room itself, and director James Kemp deftly manages to fit a large group in a small space. He draws concentrated performances from his cast, though it is asking a lot of Louis Deeney as Marie to mope around on her own for so long with nothing to do; fortunately she gets the chance to play some real dramatic moments at other times. Natalie Hillier is a very motherly Olivia and Sophie Angelson gives an Irene fighting to hold on to her hopes for the future. There is a delightful Uncle Isaac from Nick Simons, though quite what he is doing in the household is not well established.
If Alexander Weolpert's Vershinin seems less of a philosopher than one might expect, that is because this man is less loquacious than Chekhov's original. Soldier Sam has to hang around silent, obnoxiously whittling a stick all over the carpet. Jackson Milner gets little chance to show why Irene finds him attractive, but he makes the most of their moments together. The guy besotted with her, Tommy, couldn't be nicer but Jamie McKie lets his years of frustration burst out when he is faced with the real situation.
Schoolteacher Freddy is a bit of a clown; Tom Deplae captures that but gives him a sincerity that certainly gained my sympathy. As the girls' brother, Joseph Macnab has amiability and just a hint of the former potential that makes him such a disappointment to his sisters while Rachel Barry as his wife Natasha is so wrapped up in her own needs that you almost accept her selfishness as normal.
Promise doesn't really transpose Chekhov to the Mid-West; it hasn't quite matched the circumstances of the original. In fact it would perhaps be better if it had boldly told the story in its own way and a little more tightly, but this production holds its audience and does its cast credit.
Reviewer: Howard Loxton