Promises, Promises
Music by Burt Bacharach, Lyrics by Hal David, Book by Neil Simon
Based on the screenplay The Apartment by Billy Wilder and I.A.L. Diamond
Crucible Theatre, Sheffield
(2005)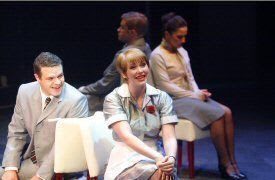 The Crucible Christmas show is not a pantomime this year. Or perhaps it is. What is a pantomime? A well-known story told with music and dancing, with some stock characters such as Buttons, in love with the beautiful principal girl; with a wicked executive wizard; a funny doctor who saves the day; and they played gin rummy ever after.
This sad, moving, passionate love story, with almost a happy ending, delighted the audience at the Crucible. It made every use of the tricks of the stage, with the music provided up in the eves by an almost invisible Band. It is based on the highly successful film, The Apartment, and launched as the musical some eight years later, a very long time ago, 1968, with music by Burt Bacharach and lyrics by Hal David.
How has it survived the passage of time to this present production? The story is excellent, the music rousing at times, full of pathos at others, the dancing is exciting and the characters appear as real people. But this production does take time to get moving and really grab attention. There is some lack of balance between the music and the singers, so that their words are sometimes difficult to distinguish, and the finer points of the songs are not always clear; it did improve as the show continued and in the second Act, one became gripped by the speed and facility of the players.
It is not often that a musical has four middle aged gentlemen doing a song and dance act worthy of the early hoofers, nor a female group clad in trench coats and coloured head scarves. Chuck, the hero - if one can call him that - carried on an interesting dialogue with the audience, cleverly involving them in his amorous day-dreamy philosophising - thoughts devoid of action. The heroine, Fran - can one have a heroine carrying on an affair with the head of the company? - retained her 'girl next door, waitress in the staff restaurant' appeal in spite of the wicked wizard's seduction, or even his departure to spend Christmas with his wife and children.
Nobody booed the villain, shouted advice to the hero or sang along with the doctor fairy godmother who came to the rescue at a crucial moment.
It is difficult to pick out individuals for special mention in this large cast, singing, dancing and acting and playing with enthusiasm, moving round the stage, and moving the stage around, with enormous vigour and colour. But it was a pantomime and will be a delight for the audiences over the holiday period.
Runs until 21st January, 2006
Reviewer: Philip Seager