Proof
David Auburn
Sell a Door Theatre Company
Greenwich Playhouse
(2011)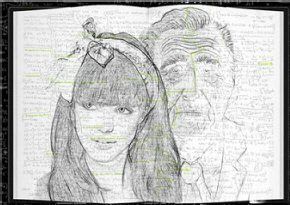 The titular proof of David Auburn's Tony Award winning play is that of a mathematical hypothesis and also of who produced it, but you don't have to be a mathematician to understand it. I have never shared quite got the fascination of numbers and the magic of mathematics but this is not a play about mathematics but about family duties, inherited talent, stealing intellectual property, trust and the possible link between particular abilities and mental instability. That's plenty to be going on with.
David Hutchinson's production sets Proof very simply on the back porch of Robert, genius Mathematics Professor at University of Chicago. With a triangle of wooden decking and a rocking chair set on a carpet of Astroturf designer Adrian Gee suggests this tranquil suburban backyard in sharp contrast to the often explosive action
It is his daughter Catherine's twenty-fifth birthday and her father is there with a bottle of bubbly. Marcus Taylor makes him rather strident, even hectoring but a slight unnaturalness fits into place when we realise that not only is he mentally unstable (he has been out of it for years) but also he is dead. It is his funeral tomorrow. Is he a ghost or a memory?
One of his post-grad students turns up, Hal, eager to go through his papers. In his notebooks, full of mad ramblings, he hopes to discover some unknown new breakthrough - and perhaps to appropriate it as his own.
Holly Easterbrook and Dan Cohen are well matched as Catherine and Hal. It is easy to see why they are attracted to each other but can Hal believe that Catherine has inherited some of her father's genius? Behind their youthful appearance both actors suggest their frustrations.
Claire, the career-girl sister who has gone off and made her own life, is more concerned that she may have inherited her father's mental instability. Amy Burke plays Claire with strength and exasperation, a woman who has taken on responsibility for the family with hardly a thank you, more fully aware of it now that she is about to get married. And she gets a morning hangover just right.
This engaging play keeps juggling the possibilities, what is true, facts or motivations. It even keeps you guessing as to whether something is a flashback or in the mind of a character. Auburn knows how to keep an audience interested and writes a theatrical first act curtain of the kind that is becoming too rare. This simple production doesn't have any actual tabs but it nonetheless serves the play well.
Run ends 29th May 2011
Reviewer: Howard Loxton