Propaganda Swing
Peter Arnott
Nottingham Playhouse Theatre Company and the Belgrade Theatre, Coventry
Nottingham Playhouse
–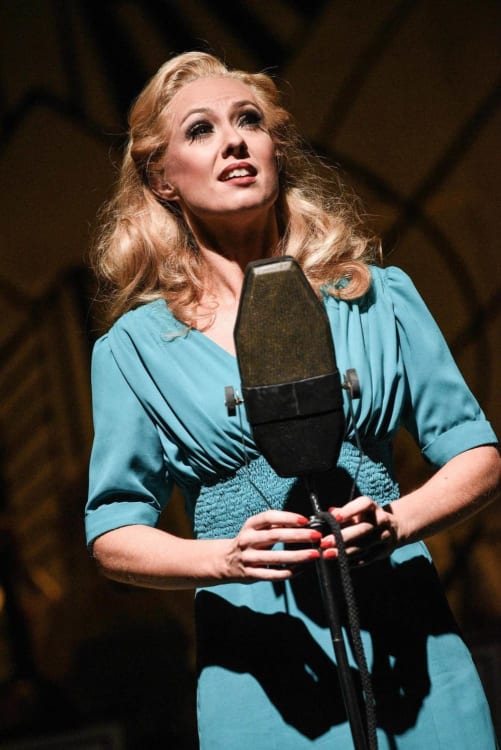 Nazi Germany's use of propaganda during World War II has been extensively documented—the Third Reich established a Ministry of Propaganda led by Joseph Goebbels—but until now there has been little mention of how the Nazis used jazz to promote their cause.
Peter Arnott has remedied that with his new play Propaganda Swing which unravels the true story of a group of musicians who were given the name Charlie and his Orchestra.
Jazz in 1930s Berlin was popular. But the Nazis hated it. Radio stations could not play anything that resembled jazz and musicians were even told how to hold their instruments so that they would not look like black performers.
But Goebbels' ministry decided it could use swing for its own nefarious purposes. Musicians had to make a pact with the Fascists who allowed them to continue playing their cherished music but songs were rewritten to include Nazi dogma. They were then broadcast to boost Germans' flagging morale.
Propaganda Swing is told through the first-person narrative of CBS Radio war correspondent Billy Constant. He has fallen in love with German jazz singer Lala Anderson and is caught up in the vicious restrictions of what can be said and played due to Nazi censorship.
Richard Cohen shows us an increasingly acerbic Constant who is totally frustrated because there is little he can say on the air and he is desperate to quit Germany.
Tomm Coles gives a fine performance as Lutz Templin, the bandleader who has to swallow his pride and do the Germans' bidding. The alternatives, he points out, are infinitely worse. His confession that he is not good enough to go to the USA in the hope of joining one of the world's top jazz bands is touching.
But the best portrayal of the evening comes from Chris Andrew Mellon as Otto Stenzl, the fixer and nightclub owner. After being forced to sell the club cheaply when the Nazis discover his grandmother was Jewish, drunken Otto goes on stage to do a stand-up routine. Mellon delivers a poignant, cringeworthy act which is uncomfortable to watch yet absorbing.
Miranda Wilford smoulders early on as Lala Anderson before she becomes a shadow of herself when she has to sing the Germans' awkward lyrics.
Propaganda Swing features a three-piece band and eight actor-musicians who light up the stage. Clara Darcy is a typical example: one minute she is blonde Anita Spada, completely naïve about the Germans' motives, the next she is belting out a tune for all she is worth on trumpet.
There is a cameo by Callum Coates as Lord Haw Haw, the wartime traitor whose broadcasts tried to undermine the effectiveness of the Allied war effort. But the character seems insufficiently developed to make a telling contribution and his role in the production is not adequately explained.
I was concerned early on that Propaganda Swing might turn into a jukebox musical-type show. But Arnott's script and Hamish Glen's astute direction signal that this is a production with much more going for it.
Numbers including "You're Driving Me Crazy", "Makin' Whoopee" and "Lili Marlene" are well received. And the band demonstrate they can really swing when they get the whole theatre jumping with "Tiger Rag".
Libby Watson's gorgeous art deco set and Mike Robertson's lighting—at times effectively stark when Billy Constant addresses the audience—add to the spectacle.
On the night I saw the production, I was surprised that the sound levels weren't always properly balanced, with the instruments sometimes overpowering the vocals.
On the whole, though, Propaganda Swing is an enjoyable evening's entertainment and cleverly shows a side of the Nazis that has rarely been explored.
Reviewer: Steve Orme