The Comedy of Errors
William Shakespeare
Propeller
King's Theatre, Edinburgh, and touring
(2011)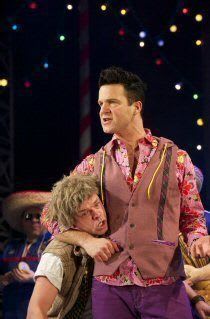 Shakespeare's mistaken identity farce is set in a thoroughly modern Med, with cheap booze, football shirts and women (played by men) in short skirts, like a stag party at a Turkish seaside resort.
It's exuberant and colourful with plenty of energy and a fair smattering of song and audience participation. The thrust of both the energy and indeed the laddish holiday comes from the really strong chorus providing musical, vocal and physical colour to the plot. They arrive on stage gradually as the audience is taking their seats and, although all have speaking parts, as chorus they are an organic whole, very much stronger than the sum of its parts.
The quartet at the centre of the action, the two sets of twins, were four very fun characters. Antipholus of Syracuse (Dugald Bruce-Lockhart) is corrupted by the decadent atmosphere of the place while his brother Antipholus of of Ephesus (Sam Swainsbury) is already firmly involved in the party scene, while their servants the Dromios are dragged along through the trail of mistaken identity.
It is Shakespeare with the dust blown off, but still sticking clearly to the text and the spirit of the piece. Propeller achieve this by both being very in tune with a modern audience, but also having a true respect for the play. The ensemble, with its strong sense of chorus and constant motion, keeps the action entertaining, the plot moving on and the audience invigorated.
Although very modern in some ways, the production does use the original all-male cast. With the cast being so colourful anyway, men in frocks don't stand out that much, but Adriana (Robert Hands) was perhaps a little too much, although Luciana (Wayne Cater) was a thoroughly convincing woman and really made something of this rather overlooked part.
This is on tour and a show very much to be recommended for hardcore fans of the Bard and also those who claim to not enjoy him at all, but most of all for those who feel the comedies have lost their mirth.
Velda Harris reviewed this production at the Sheffield Lyceum. It was also reviewed at Hampstead by Philip Fisher.
Reviewer: Seth Ewin