Richard III / The Comedy of Errors
William Shakespeare
Propeller
Everyman Theatre, Cheltenham, and touring
(2011)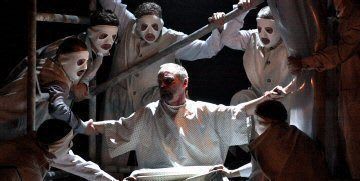 The latest turn by Propellor finds the company on their very finest form, fresh as paint, inventive, provocative and very funny. A comparison with Bristol's Shakespeare at the Tobacco Factory which arguably occupies similar territory and which is also presenting The Comedy of Errors this season, is instructive.
Both are small ensembles, run on a shoestring and devoted to the works of the Bard, exclusively to date in Propeller's case. But the Newbury-based outfit display a far greater dash and sense of fun than their more strait-laced cousin.
This is particularly evident in The Comedy which opts for a Mexican setting, also favoured by Marianne Elliott in her RSC production of Much Ado about Nothing. Like Nancy Meckler in her gloriously over-the-top production of the play for the RSC in 2005 and Lynne Parker before her, producer Edward Hall throws in not so much the proverbial kitchen sink as an entire warehouse full.
Of course it is possible to play it otherwise. David Farr located a darker play in his production for Bristol Old Vic some years back in a production which owed much to the surreal world of de Chirico. But it is early Shakespeare and is first and foremost a comedy - Shakespeare doubled the number of twins in Petrarch's play, the source for his work after all. But, as with most productions of Comedy, much of the fun comes from additional stage business - so here.
Thus we get dodgy accents, a Mariachi-style band, on stage for much of the action, a terrific turn from Tony Bell as a Yorkshire-accented revivalist preacher and the roughest women outside Coronation Street's Underworld.
It's played pell mell and, as a result, some of the lines get trampled under foot. But it would take a churl to cavil. It is not the only show in town but as an introduction to the world of Shakespeare it is enormously painless and joyous.
Reviewer: Pete Wood