Prostitutes Marry in May: Two Queens, One Nation
Written and performed by Miriam Cooper
Play On Words Theatre
Waterloo East Theatre
(2011)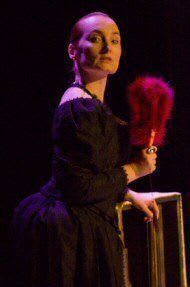 This one-woman show presents us with Elizabeth I and Mary Queen of Scots played by the same actress, who is also the dramatist, performing under the direction of Jonathan Kemp.
Elizabeth Tudor and Mary Stuart were cousins and, although they never met, their lives were inextricably linked. Both were trapped in their dynastic and political situations, though they handled them in very different ways. As a writer Cooper gives glimpses of both lives from childhood to the death of Mary and as an actress she not only differentiates their personalities but plays them at different ages.
Her Elizabeth develops from a frightened little girl who cannot understand what is happening; her mother executed, a kindly stepmother too, her own position continually changing in and out of her father's court. In Mary we see change from a Scots-accented bairn to a francophone young woman who, following her return to Scotland, finds it increasingly difficult to be in charge of her own life.
It would be easy to see Mary as irresponsible queen and Elizabeth as the duty driven monarch but in Prostitutes Marry in May Cooper gives us a Mary with little foresight caught in situations not of her own devising and glimpses of Elizabeth both playful and disturbed, not just the astute political Gloriana. She wears a rich black gown (designed by Susan Coates) that suggests period without reproducing sixteenth century fashion and relies entirely upon her performance to identify which she is playing at any time. It is a tribute to her playing that you are never in doubt.
There is no one credited with the design which places the action on a chequered floor with distressed edges that is also a reminder of the diplomatic game of chess these two queens play, while above two white panels are suspended that could be worn parchments, documents from which this history is drawn, or maps with rivers and estuaries to suggest the national territories at stake, while some practical furniture units serve as desks with one of them draped in red that could be a prie dieu or a headman's block. David Beaumont's subtle lighting plot adds atmosphere and its altered states mark changes of time and place.
At first these are frequent and the fragmentation makes this a series of snapshot scenes rather than giving a dramatic structure. At the beginning of the play the interest lies in the information and the playing rather than dramatic incident but after the interval, as the pressure for the trial and eventual execution of Mary becomes stronger, the inherent drama of the situation and Elizabeth's quandary give it dramatic shape.
Apart from a reference to Walsingham there is no mention of the basis for the accusations against Mary or of the evidence, real or fake, that she was actively plotting or party to a plot. This is not a play about guilt but one which shows the way each woman reacts to pressure.
"Prostitutes Marry in May" is at the Waterloo East Theatre until 17th July 2011
Reviewer: Howard Loxton