Protest
Hannah Lavery
Fuel, Imaginate and Northern Stage in association with National Theatre of Scotland
Northern Stage, Newcastle-upon-Tyne
–

Listing details and ticket info...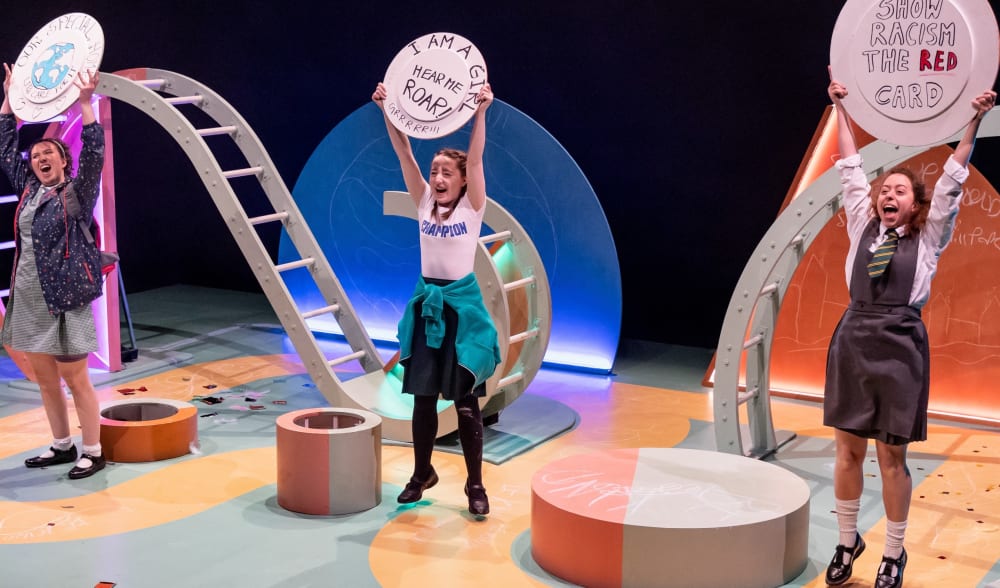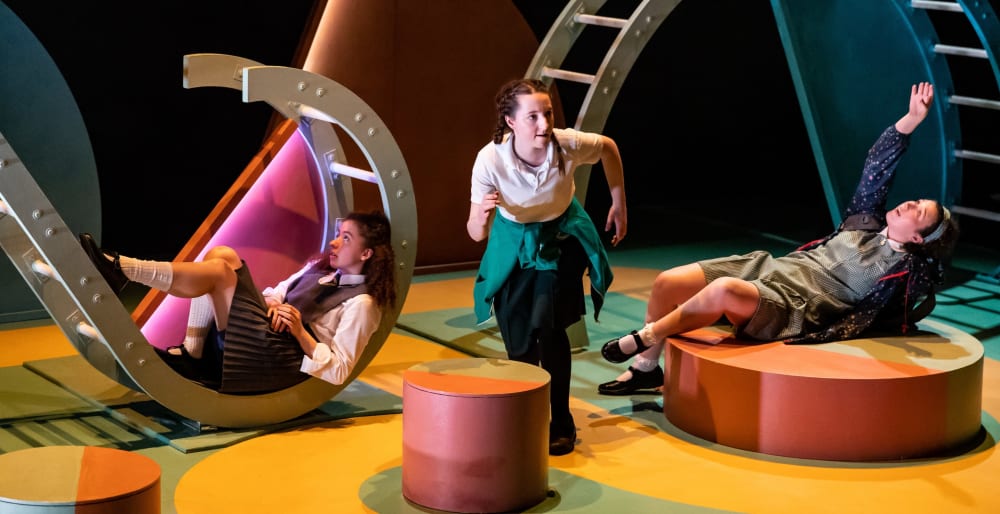 An open, abstract, colourful set greets you and three young girls. What does it take to make a difference? Well, small changes can become big ones. Alice, played by Kirsty Maclaren, begins telling you about her passion, running, and frustration of being overshadowed by boys who were inferior runners. While this monologue is long, MacLaren's impassioned and animated delivery holds your attention and gets the piece off to a lively start, involving you from the off.
Jade, played by Tamara Fairbairn, follows with her concerns around the racism she experiences and is disheartened by her Jamaican heritage being ignored. Finally, timid Chloe, played by Esme Kingdom, saddened by her father leaving, speaks of her love of nature, especially birds, about which her father taught her. She is especially drawn to robins, which you rarely see in pairs, just one alone, a little like her.
The play goes from one to another as their story unfolds, exposing their common feelings with an excellent use of choreographed movement by Nadia Iftkhar keeping it all flowing along. Amy Jane Cook's simple but creative set is well used and incorporated into the action, with all components brought together by Ali Hunter's splendid lighting.
This is Kingdom's professional debut, with the 2022 RADA graduate Fairbairn and young MacLaren, who can be seen paying Viola in series 3 of The Crown on Netflix. The talented young cast have a strong production team of 28 supporting them, including local expertise such as associate director Natasha Haws and accent consultant Rosie Stancliffe. An inspiring script under the experienced guiding hand of director Natalie Ibu makes for a successful show.
Winner of the 2019 New Playwriting Award, the Scottish playwright Hannah Lavery is a poet, playwright, short story writer and performer. She has written for the Royal Lyceum Theatre, Pitlochry Festival Theatre and Traverse Theatre and wanted to write a play offering hope to young people while celebrating the youth that are trying to improve our world. Although born in the seventies, Lavery has a great understanding of schoolchildren's minds, with not only believable words coming from their lips but also humour. A play can be many things, but rare to get one that not only draws you in, holds your interest, gives a strong message and entertains as well; Protest does.
I believe in an evocative title, to create interest, evoke ideas—after all, it is an introduction to the story. I was instantly drawn to Protest, one word that says so much and especially pertinent in these times; it drew me in, much as the play did. The Scotsman wrote of Lavery, "a voice which speaks to and for the confused conscience of Scotland around issues of identity, race and justice." Protest speaks to us all of those issues. Try and catch it before it goes out on a nationwide tour.
Reviewer: Anna Ambelez