Protestants
Robert Welch
Presented by Ransom Productions
Traverse Theatre, Edinburgh
(2004)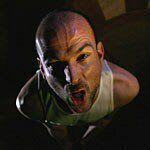 On Protestants' final night (of just three) in Edinburgh, plenty of seats were still available for the show - a shame, considering that this was probably one of the best shows to appear in this intimate theatre in the last few months.
Paul Hickey stars, giving a consistently magnetic performance. He tells the stories of a wide variety of Protestant worshippers through the ages, including Queen Elizabeth, Martin Luther, a soldier in Cromwell's army, an American snake-handler from Mississippi, and a young man in Ireland. Under the skilled direction of the company's artistic director, Rachel O'Riordan, Hickey takes writer Robert Welch's lyrical script and stretches each word, each phrase, to its fullest potential without overwhelming it.
The shock of this performance is how completely Hickey makes each transformation between characters. Each tale ends with a musical transition and a darkened stage - when one realizes that Hickey has delivered each monologue as an entirely different personality (perhaps initially most evident in his "becoming" Queen Elizabeth, but equally flawless in each successive performance), it is impossible not to feel privileged to witness the performance.
Most of the elements of Protestants fit together seamlessly, creating one cohesive whole. The only exception to this is, regrettably, the final passage in Welch's script. Over the preceding hour, each story has been told so perfectly from the point of view of its protagonist that when, at the end, Hickey draws them together in the manner of an all-knowing narrator, the moralizing tone that is suddenly adopted falls flat. Audiences who have followed the stories of Hickey's characters through to the end of the play will already realize that the binding tie between the Protestant characters is their willingness to question, and their deep-seated faith, without being told it in so many words, with stirring music played in the background.
But even a less-than-all-consuming ending cannot spoil the fact that Protestants is simply a stunning piece of theatre; anyone who didn't manage to catch it in Edinburgh should hope they have the opportunity to do so at a later date - though no information is available on the company's website as to whether or not this will be possible.
Philip Fisher reviewed this production at the Soho Theatre.
.
Reviewer: Rachel Lynn Brody