Proud
Michael Healey
The Alchemist Theatre Company
Finborough Theatre
–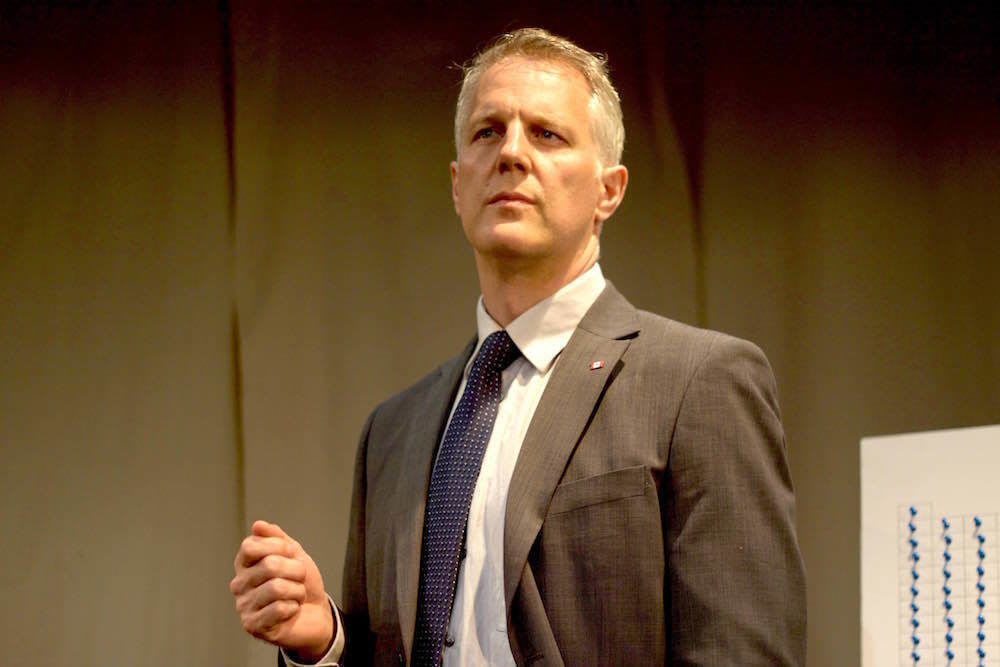 The 41st Canadian federal election in May 2011 saw Prime Minister Stephen Harper win his third consecutive victory and a small majority—the first right-of-centre majority government for nearly 20 years. But, what if it had been different? What if Harper had truly united the right: if Quebec had turned true blue rather than New Democrat orange?
Michael Healey's 2012 play Proud—given its European première by The Alchemist Theatre Company at the Finborough Theatre—presents just this scenario. And, in delving into the machinations of the Canadian federal government, it shows us how politics "works", how and why politicians think, and the effect that their actions have on all our lives.
Harper's landslide win has given him real power and the opportunity to live his political dream: "you are all spokes and I'm the centre of the wheel", he tells his new MPs. As he argues with his chief-of-staff, Cary Baines, about who should sit where in the House of Commons—Harper wants all those who displease him out of his sightline—new Quebecois MP Jisbella Lyth bursts into his office in search of a condom. She and journalist Evan are going to christen her new desk. The horrified Harper's first instinct is to sack her, but he suddenly realises that this loose cannon could serve his own purposes well.
Lyth is persuaded—Baines casually waves a potentially ruinous confidential file—to table a private members bill on abortion that will be voted down but which will create a rumpus among the press and serve to 'bury the bad news' about cuts to the Privy Council.
Harper takes on the role of political tutor and mentor, explaining with meticulousness how politics "works" and instructing the brazen, brassy single-mother, "you're a politician now, figure out what your beliefs are and get back to me". But, in so doing, he learns some unwelcome things about his own beliefs and feelings, as the teacher-pupil dynamic swings the other way.
As Harper, Nicholas Cass-Beggs reveals both qualities we might expect—over-confidence, fanatical zeal, narcissism—and others we don't: emotional immaturity, a lack of self-knowledge, and an occasional perplexed uncertainty when faced with the unfamiliar.
Healey takes us right inside Harper's mind and Cass-Beggs presents an intriguing portrait. All that matters to the PM is building a coalition so that he can trim the administration and give Canada the size of government proportional to its needs. He doesn't love his country but he thinks it has "potential". He refutes Lyth's assertion that people want "freedom": freedom is loneliness, and what people really want is "a functioning society".
Emily Head is terrific as Jisbella Lyth, the rookie MP from the fictional Quebec constituency of Cormier-Lac Poule. A single mother and former fast-food franchise manager, she can barely contain her excitement at finding herself in the corridors of power and her brash impetuousness and down-to-earth pragmatism make an appealing foil to the uncompromising, buttoned-up Harper. Leggy and licentious, she shows a sensitive side too in her role as a single mother.
There's a magnetic rapport between Cass-Beggs and Head, which she milks and he is barely aware of. Director Jonny Kelly ensures that every possible drop of comedy is squeezed from their sharp exchanges, without lessening their satirical impact. The balance swings in Lyth's favour as she uses her sexiness and sassiness to turn the tables on Harper—"you don't want to want me, but you do want me"—and one finds oneself feeling a surprising sympathy for Harper. He does have beliefs, even if one doesn't agree with them, but he doesn't have self-awareness. Cass-Beggs reveals a nerdy vulnerability beneath the Teflon smile that one didn't suspect was there. He is, as Lyth remarks, "mashed potatoes stuffed inside a suit".
Healey gives us a lot of political detail but also some stirring speeches, the rhetoric of which creates compelling momentum and a real buzz. Harper's long rant about all the things that he doesn't care about is breath-taking: its escalating—and ironic—passion seems to surprise Harper himself. In contrast, when he takes Lyth's mobile from her hands and becalms her fractious son with a tale of turning failed latkes into delicious hash-browns, the political irony is of a subtler but no less sharp nature.
Jude Monk McGowan is excellent as Harper's dapper aide, Cary Baines. Realistic about the extent of his own power, and the way to keep it, he's an utterly dependable staffer—even on hand with a box of condoms when Lyth finally cracks Harper's prudish veneer—but always has one eye on his own next move. Baines is honest about his own ruthlessness and, as with Harper and Lyth, this complicates the audience's response to his shady, self-serving strategies.
The only false note is the inclusion of a fourth character, Lyth's son—now an adult and standing for election as an independent candidate. Will Firth captures the naïve idealism of this diffident young man whose political faith—"you try again and mostly you fail, so you try again, and mostly you fail", but you only "mostly" fail, and those small success are what it's all about—is endearingly optimistic. And, his tentative responses to the off-stage interviewer's questions about his mother's political success and his own incipient career do fill in the years and "what came next". But his presence weakens the absorbing dynamic between the principal trio and the taut structure of the play.
A satirical skewering of Harper and an exposé of the dark machinations of the Prime Minister's Office, Proud courted controversy. Fearing that it was potentially libellous, artistic director Richard Rose refused to programme the play at the Tarragon Theatre and Healey resigned after 11 years as playwright-in-residence.
But one doesn't need to be familiar with recent Canadian federal politics to appreciate the play's satirical precision. At a time when our own political parties—faced with the reality of Brexit and a Disunited Kingdom—seem to be imploding, divided and rudderless, we are all tempted to become armchair MPs. Proud both confirms and challenges assumptions about political hypocrisy, cynicism, intrigues and egoism and makes one reflect on one's own beliefs.
Reviewer: Claire Seymour