Providence

Dominic Allen and Simon Maeder
Assembly Rooms
–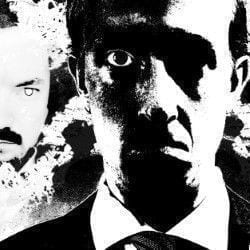 The first thing which struck me upon entering the dark, smoky shipping container performance space was the gaunt figure of Simon Maeder: sat in an armchair, clutching a large leatherbound book and peering around with a nervous quickness.
What struck me next, with a jolt of amusement, was Dominic Allen standing nearby, covered with a sheet, like a child's idea of a ghost, gently bopping his head to the music and waving at the entering patrons. It was around this moment that I realised that Providence was not going a play that intended itself to be taken all too seriously.
We meet the 18-year-old Howard Philip Lovecraft, played by Maeder, on the banks of the river near his home, where he's come to end his life, only to fail and be met by Allen as the spirit of Edgar Allen Poe, come to console, pester and otherwise hear his life story. As they move from his boyhood days, touching on the death of his father, the smothering affection of his mother and his difficulty in relating to other people, peppered in amongst his story are small snippets from his stories, acted out by the pair.
Allen and Maeder are an absolute hoot in this play. Maeder's Lovecraft is unceasingly neurotic, awkward and confused by the way life unfolds around him, outside his limited comfort zone. Allen's evocation of Poe on the other hand is a riot, played up with cheerful abandon in the stylo of Groucho Marx, cracking wise and repeatedly trying to tell his own life story to the audience. And whilst Maeder is tasked with the main role, Allen gets to flit around portraying the other figures in his life, save for a commendable turn from a coffee pot.
There's a distinct difficulty in approaching H P Lovecraft's work today, as he's almost as famous for his bitter racism and class bigotry as for his gift for writing horror in a fashion which completely altered the genre from then on. The play never shies away from that aspect of his life, indeed at first it's played up around the young Howard with a knowing wink, before being treated with more seriousness once he's a grown man.
It's a wonderful time and an experience which takes the gloomy eldritch horror which one might expect and replaces it with belly-laughs and fascination.
Reviewer: Graeme Strachan