Public – The Musical
Stroud and Notes
Stroud and Notes
Pleasance Courtyard
–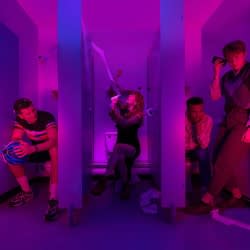 Stroud and Notes' sparkling new play Public The Musical is set in a public gender-neutral toilet. Not the most salubrious settings for a musical. But when four strangers find themselves locked in, it makes for an intriguing hour of comedy and tension as they wait desperately to be rescued.
They are a disparate bunch of individuals. Public school educated Zo, delightfully played by Annabel Marlow, dressed as a bee is supposed to be attending an activists rally. Non-binary Laura (Alicia Corrales) is having anxiety attacks about their relationships and is trying to avoid any conflicts.
Whilst gay Finlay (Hugo Rolland) is stressing about missing his appointment at the benefits office as he has run out of money and needs his universal credit.
Then there is the keep-fit addict Andrew (Andrew Patrick-Walker), who works in 'financing' and is trying to come to terms with women in the gents' toilet. Not an easy concept for him to grasp.
Each character has a story to tell, but first spend time "talking small talk" and discover more about each other.
Kyla Stroud's rich varied pop score moves the narrative along at a pace, and there is some strong harmony singing. Patrick-Walker is particularly impressive. It's all great fun and the number about graffiti in the toilet is hilarious.
Slowly, they begin to understand each other and learn about gender and friendship.
Directed by Hannah Sands, Public is full of catchy songs and asks important questions about identity and relationships. It's a delight.
Reviewer: Robin Strapp